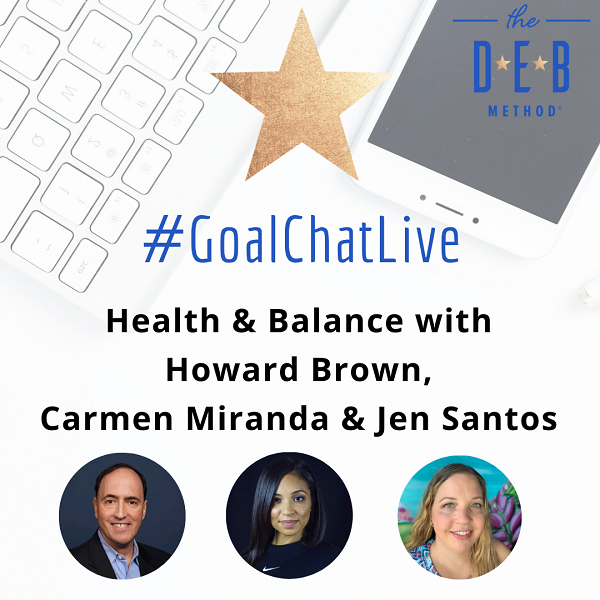 How are you feeling these days? Are you taking care of yourself? This week's #GoalChatLive is all about Health and Balance with guests Howard Brown, Carmen Miranda, and Jen Santos, all entrepreneurs and health enthusiasts. The April theme is Health, and we'll be covering Physical, Mental, Money, and  Corporate Health on #GoalChat Live.
Howard, Carmen, and Jen shared their own health and well-being journeys, how they found – and are still finding – balance and so much more.
About our guests:
Howard Brown is an entrepreneur, author, and health advocate
Carmen Miranda is a fitness and wellness coach, Intuitively Fit 360
Jen Santos is a small-business consultant and work-life balance coach, The SAMBA Method
The First Step to Being Healthy
Jen: Define health boundaries
Carmen: Making a choice to be healthy
Howard: Actually take the steps. Do the work and remove roadblocks
Finding Balance: Lessons Learned
Carmen: Trust yourself. Get rid of the outside noise
Jen: Know yourself and how you thrive
Howard: Be authentic and be intentional. Be nimble and pivot
Watch #GoalChatLive on Health & Balance
Also, check out the full GoalChatLive conversation on March wins and April goals in the Twitter Moments Recap.
Goals from our Guests
Jen: Do not bring your phone to the dinner table
Carmen: Create a ritual around closing out your workday
Howard: Check in with someone in your network, who you haven't heard from in a while
Our Guests' Goals
Howard: Successfully launch Shining Brightly
Carmen: Ask more … for needs and wants
Jen: Continue building out her community and network
Final Thought
Howard: Keep shining with kindness
Carmen: Celebrate something every day
Jen: Turn off the notifications on your phone
Links
How do you find balance? And what's your big April goal? Please share in the comments.
Next Week
Our next topic is Physical Health. Join the Twitter chat on Sunday, April 3, at 7pm PT on Twitter. Then, on Monday, April 10, at 4pm PT, Eli Walker of Drunk Yoga is among my guests for #GoalChatLive.
* * *
For more inspiration, motivation, and tips, follow @TheDEBMethod on Twitter, Facebook, and Instagram. And connect on LinkedIn.
And get your copy of my latest book, Your Goal Guide: A Roadmap for Setting, Planning and Achieving Your Goals. Then join the Your Goal Guide Facebook group.