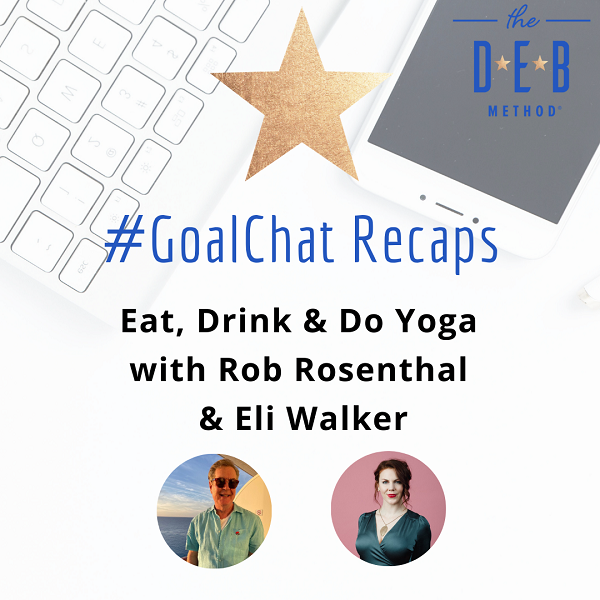 On this week's #GoalChatLive, we talk about healthy habits with a fun, playful, hunger-inspiring twist. Guests Rob Rosenthal (aka Short Order Dad) and Eli Walker (CEO and founder of Drunk Yoga) joined me for a show entitled: Eat, Drink, and Do Yoga! The April theme is Health, and we'll also be covering Mental, Money, and  Corporate Health on #GoalChat Live.
Authors Rob and Eli share their backstories – how Rob became a food humorist and chef and how Eli created Drunk yoga – as well as their thoughts on living healthy, eating well, and finding balance. We even had a nice oatmeal tangent, as well as a comparison of working out to eating a cookie versus baking a cake. 
Healthy Habits
Rob: I like working out as often as possible. And I believe in varying the activity. What you put in your body also matters. Eating healthy and well takes discipline
Eli: I believe in rituals. I figure out what I need to do each day to get a good night's sleep, and I work backward. Yoga, for Eli, is not working out. It's like breakfast – she starts her day with Yoga and does something else to work out.
Food Habits
Rob: Prefers actual food to dessert. The challenge is quantity.
Eli: Mostly vegan, gluten-free with a weak spot for vegan chicken nuggets
Eli: Loads spices into coffee
Rob: Makes savory oatmeal with spices
Watch the Eat, Drink, and Do Yoga #GoalChatLive
Also, check out the full GoalChatLive conversation in the Twitter Moments Recap.
Goals from our Guests
Eli: If you are hesitant to work out because you don't have time, commit to 10-15 minutes a day
Rob: Don't eat or drink for 3 hours before you go to bed
Final Tip
Eli: Find ways to engage playfulness in everything you do
Rob: Be playful in the kitchen and cook more
Links
What's your best healthy habit? And how do you feel about oatmeal? Please share in the comments.
Next Week
Our next topic is Money Health. Join the Twitter chat on Sunday, April 10, at 7pm PT on Twitter. Then, on Monday, April 11, at 4pm PT, Nicole Iacovoni and Laura Khalil are among my guests for #GoalChatLive.
* * *
For more inspiration, motivation, and tips, follow @TheDEBMethod on Twitter, Facebook, and Instagram. And connect on LinkedIn.
And get your copy of my latest book, Your Goal Guide: A Roadmap for Setting, Planning and Achieving Your Goals. Then join the Your Goal Guide Facebook group.