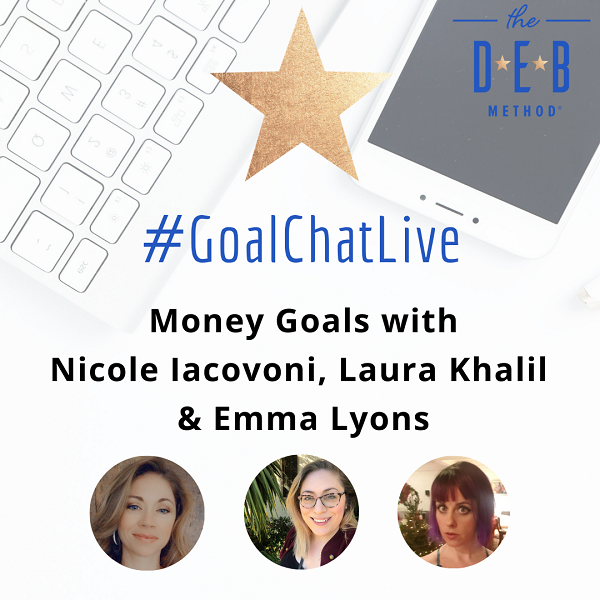 On this week's #GoalChatLive, Nicole Iacovoni, Laura Khalil, and Emma Lyons join me to talk about money goals. My guests have all faced financial challenges and turned things around; they are each on a mission to empower others with better money habits. The April theme is Health, and we'll be covering Mental Health and Corporate Health on the next two #GoalChats.
Nicole Iacovoni is a Financial Therapist and Licensed Psychotherapist, Date Your Money, Laura Khalil is a High-Performance Business Coach, Brave by Design, and Emma Lyons is an Intuitive Money Healer, Experience True Self.
The Value of Money Goals
Laura: What is the value of the impact you want to make on the world? Money opens doors!
Nicole: Money is a resource, a tool that can help you create the life you want.
Emma: Setting goals is great as long as your feel it's possible for you! You need a clear vision. True wealth is more than having money.
What Stops People from Achieving Money Goals
Emma: A lot of people don't allow themselves to see that vision. Fear stops them. Accept where you are, so you can take the next step forward.
Nicole: A lot of people have toxic beliefs about money, but beliefs are not facts. Money memories start young. What happened in that first experience? That feeling gets imprinted. Also, people tend to outsource their money decisions; you need the confidence to make the right ones.
Laura: There is so much value in the mindset piece. If you want to generate money, hold onto it, and grow, you need a goal around wealth building, not a goal of spending money on luxury items.
Money Goals #GoalChatLive
Also, check out the full GoalChatLive conversation in the Twitter Moments Recap.
Goals from Our Guests
Laura: Women consultants, raise your rates! Everyone, learn from people who are different than you and discover how you can advocate for them.
Emma: Create your money vision and decide why you want it.
Nicole: Schedule 30 days of money dates, one hour a week to start. Make it a fun, flirty, swoon-worthy experience.
Final Thought
Nicole: It doesn't matter where you are now in your financial journey, you can always make the decision to improve your situation
Emma: You don't need to suffer in silence. You can resolve this and move forward. It's easier to change what you are doing than to carry around the old, awful stuff.
Laura: We all stand on the shoulders of giants. Find someone you admire who has achieved something you want. Study these people. Every day, take a small step toward becoming the person you are destined to be.
Links
What's your best money healthy tip? Please share in the comments.
Next Week
Our next topic is Mental Health. Join the Twitter chat on Sunday, April 17, at 7pm PT on Twitter. Then, on Monday, April 18, at 4pm PT, Dorien Morin-van Dam, Jennifer Tsang, and Diann Wingert are my guests for #GoalChatLive.
* * *
For more inspiration, motivation, and tips, follow @TheDEBMethod on Twitter, Facebook, and Instagram. And connect on LinkedIn.
And get your copy of my latest book, Your Goal Guide: A Roadmap for Setting, Planning and Achieving Your Goals. Then join the Your Goal Guide Facebook group.