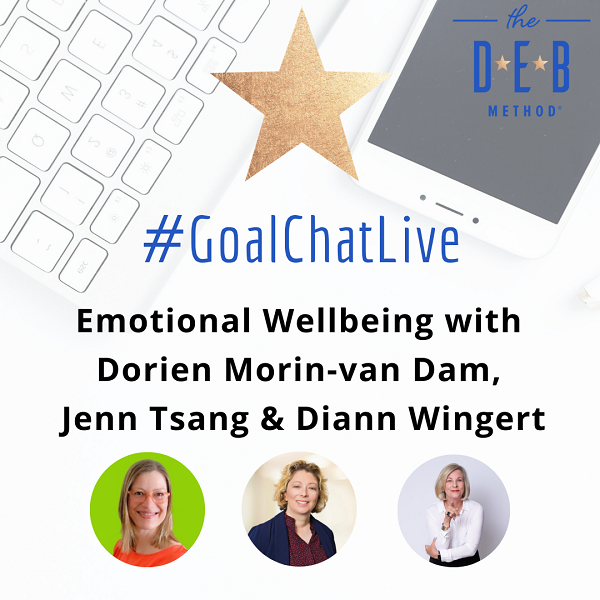 On this week's #GoalChatLive, Social Media Strategist Dorien Morin-van Dam, Leadership Coach Jenn Tsang, and Mindset Coach Diann Wingert join me to talk about emotional wellbeing and mental health. This topic was scheduled by request. After more than two years of COVID-life – and the work, home, and life stress that goes with it – it was time to check-in with strategies for better emotional self-care.

Dorien, Jenn, and Diann shared their connection to the topic and how they are really doing, as well as tips for celebrating wins, staying sane on social media, and more.
Their Best Self-Care Habit
Dorien: Running
Jenn: Sees a therapist every two weeks, as well as a massage therapist. In between, she walks, runs, works out, and spends time in nature
Diann: Napping is her self-care strategy; a 40-minute nap or a 20-minute caffeine nap
How They Handle Stress
Diann: Managing expectations of what can actually get done in a day, a week, a month
Jenn: Daily curiosity practice
Dorien: Tuning out the world and reading or binge-watching
Emotional Wellbeing #GoalChatLive
Also, check out the full GoalChatLive conversation in the Twitter Moments Recap.
Goals from Our Guests
Jenn: Be more intentional in everything you do. Develop a practice. And practice being more intentional in everything you do
Diann: Get up at the same time every day, regardless of when you go to sleep. The quality of your sleep improves
Dorien: Find an accountability partner
Final Thought
Diann: You are not broken and you are not alone
Dorien: What you see on social media is not real life. Know people's lives aren't perfect. Bonus Goal: Catch up with friends who are not posting
Jenn: Most things in life are temporary. Learn to flow with life a little bit more
Links
How do you watch out for your emotional well-being? Please share in the comments.
Next Week
Our next topic is Corporate Health. Join the Twitter chat on Sunday, April 24, at 7pm PT on Twitter. Then, on Monday, April 25, at 4pm PT, Jess Dewell and Lance Robbins are my guests for #GoalChatLive.
* * *
For more inspiration, motivation, and tips, follow @TheDEBMethod on Twitter, Facebook, and Instagram. And connect on LinkedIn.
And get your copy of my latest book, Your Goal Guide: A Roadmap for Setting, Planning and Achieving Your Goals. Then join the Your Goal Guide Facebook group.