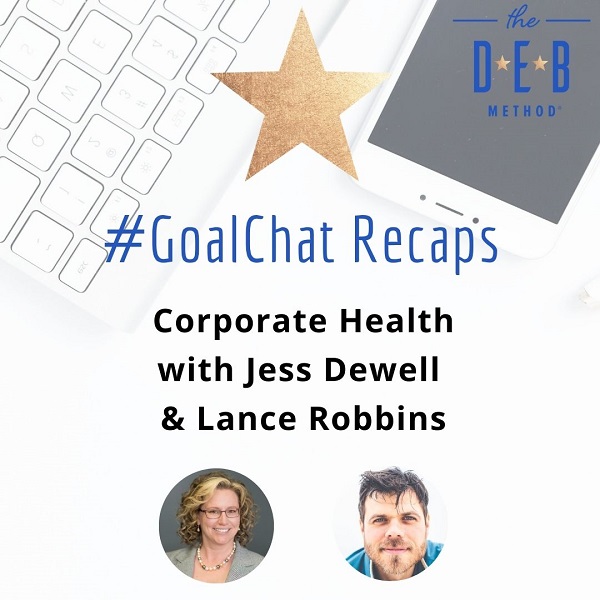 We wrapped up a month of #GoalChatLive "health" topics with a conversation on Corporate Health. Guests Jess Dewell, Managing Partner, Red Direction, and Lance Robbins, Director of Talent Acquisition, XWP, shared their thoughts on The Great Resignation, what makes a business healthy – and unhealthy, and much more.

What is Business Health
Lance: A business is a holistic thing that needs to be looked at from the big picture. Bottom line (money) vs front line (the people)
Jess: It's all about priorities. What are the company's mission and values? Where does the company put its time, energy, and resources? And what is – is there – a gap between the two?
What Makes a Business Unhealthy
Jess: Getting stuck in the day to day and forgetting their purpose – why they do what they do
Lance: Business leaders are creating experiences. If those experiences are more negative than positive, there's a problem
"Companies are not the only ones responsible for company culture," Jess says. "Employees can own their own paths."
When you encounter an issue – as a leader OR employee – Jess says, "Stop, drop, and roll!" Adds Lance, "When your company is on fire – and not in a good way – don't pause and freeze. You're only stuck if you think you are stuck. There are always options."
Corporate Health #GoalChatLive
Also, check out the full GoalChatLive conversation in the Twitter Moments Recap.
Goals from Our Guests
Jess: Find where can you pause in your week to reflect, dream, and prioritize
Lance: Look at one part of the experience of being someone who works at your company, and write down the details of what happens. If you have a healthy organization, it will be a joy to write about. If it's good, publish it. Or, if it's bad, work on it, get it to a good place, and then publish it! Employees and consultants, try this exercise for one of your projects.
Final Thought
Lance: You are creating experiences – create healthy ones on purpose
Jess: Keep asking the questions. Better questions lead to the root of what makes your company tick
Links
What's your role in your business? How do you maintain a healthy work environment? Please share in the comments.
Next Week
Next week, we are sharing April wins and May Goals. Join the Twitter chat on Sunday, May 1, at 7pm PT on Twitter. Then, on Monday, May 2, at 4pm PT, my guests #GoalChatLive guests include David Roberts and Kelly Sullivan Walden.
* * *
For more inspiration, motivation, and tips, follow @TheDEBMethod on Twitter, Facebook, and Instagram. And connect on LinkedIn.
And get your copy of my latest book, Your Goal Guide: A Roadmap for Setting, Planning and Achieving Your Goals. Then join the Your Goal Guide Facebook group.