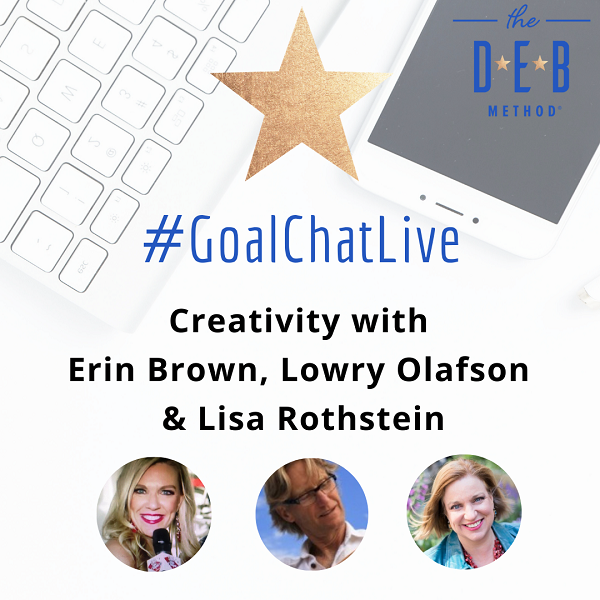 Wrapping up a month of #MarchForward topics, this week's #GoalChatLive was on #Creativity. Joining me were guests Erin Brown, Hot Red Carpet; Lowry Olafson, PowerSongs; and Lisa Rothstein, Drawing Out Your Genius, who all have creatively taken creativity to a whole new level.
My guests shared their backstory and thoughts on creativity, tips for being more creative, and so much more.
About my guests and their connection to creativity:
Confidence coach and virtual host Erin Brown, who brings her Red Carpet wherever she goes, playing the drums for fun
Musician Lowry Olafson, who writes affirmation theme songs for others, enjoys doing projects around his home
Visual storyteller and cartoonist Lisa Rothstein likes to sing in the choir and cook … making food from whatever is in the house
What is Creativity?
Lowry: It's the spark of joy
Erin: Imagination, listening to the little whispers, listening to your gut
Lisa: Resourcefulness
The message: Creativity is up to you. If you don't create it, it's never going to happen!
Watch #GoalChatLive on Creativity
Also, check out the full GoalChatLive conversation on Creativity in the Twitter Moments Recap.
Goals from our Guests
Lowry: Schedule playtime
Lisa: Draw 30 circles. Set a timer for 30 minutes and see what you can make out of it
Erin: Be aware of the red carpet moments of your life – the celebrations – and celebrate!
Final Message
Lisa: Just do it
Lowry: Say "yes." Listen to your heart
Erin: Laugh
Links
How do you tap into your creativity? Please share in the comments.
Next Week
Next week, we are sharing March wins and April goals, and talking about #SelfCare  and Health. Join the Twitter chat on Sunday, March 27, at 7pm PT on Twitter. Then, on Monday, March 28, at 4pm PT, Howardd Brown, Jen Santos, and Kelly Walden will join me on #GoalChatLive.
* * *
For more inspiration, motivation, and tips, follow @TheDEBMethod on Twitter, Facebook, and Instagram. And connect on LinkedIn.
And get your copy of my latest book, Your Goal Guide: A Roadmap for Setting, Planning and Achieving Your Goals. Then join the Your Goal Guide Facebook group.