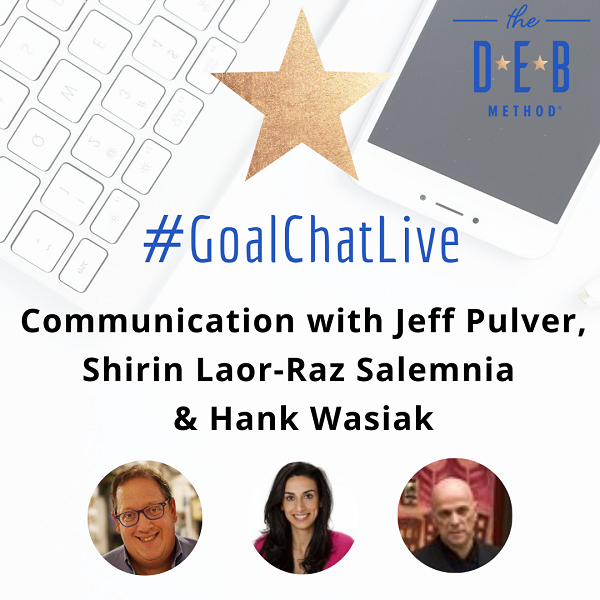 Anyone who knows me knows I am a huge fan of communication; those skills are an asset to any business, industry, or specialty. On this week's #GoalChatLive, I gathered friends from the #140conf community – founder Jeff Pulver along with Shirin Laor-Raz Salemnia, and Hank Wasiak – to talk about communication.
We discussed their relationship with communication, what they are passionate about – beyond and including the topic, tips for improving communication and dealing with breakdowns in communication, and much more.
My guests and their superpower:
Jeff Pulver is Founder/Curator of The VON3 Summit & #140Conf (Note: The #140 Conference will be back in virtual form likely in June 2022). Superpower: Connecting
Shirin Laor-Raz Salemnia is Founder and CEO of PlayWerks and WhizGirls Academy. Superpower: Wonder Woman of Tech
Hank Wasiak is an Adjunct Professor at Marshall School of Business at USC. Superpower: Empathy
The Key to Successful Communication
Shirin: Find the commonality, the pain point (how you can help)
Jeff: Start with intention and purpose. Remove FUD (Fear, Uncertainty, and Doubt). Find meaningful ways to put yourself in the path of others
Hank: Listening! And recognize you are there to create empathy with them. Communication works best when you both get something out of it
Watch #GoalChatLive on Communication
Also, check out the full GoalChatLive conversation in the Twitter Moments Recap.
Our Guests' Goals
Hank: Keep inspiring future business leaders
Shirin: To inspire millions of children around the world to be inspired by tech
Jeff: To bring more love into the world
Goals from our Guests
Jeff: Discover your superpower, embrace it for social good
Shirin: Start journaling
Hank: Find music that gets you in the frame of mind to communicate with others
Final Message
Shirin: Once you find your superpower, don't let go
Hank: Embrace the #140conf
Jeff: Learn how to communicate to bring more peace, love, and understanding into the world
Links
What's your relationship with communication? Please share in the comments.
Next Week
Our next topic is Creativity. Join the Twitter chat on Sunday, March 20, at 7pm PT on Twitter. Then, on Monday, March 21, at 4pm PT, Erin Brown, Lowry Olafson, and Lisa Rothstein will join me on #GoalChatLive.
* * *
For more inspiration, motivation, and tips, follow @TheDEBMethod on Twitter, Facebook, and Instagram. And connect on LinkedIn.
And get your copy of my latest book, Your Goal Guide: A Roadmap for Setting, Planning and Achieving Your Goals. Then join the Your Goal Guide Facebook group.