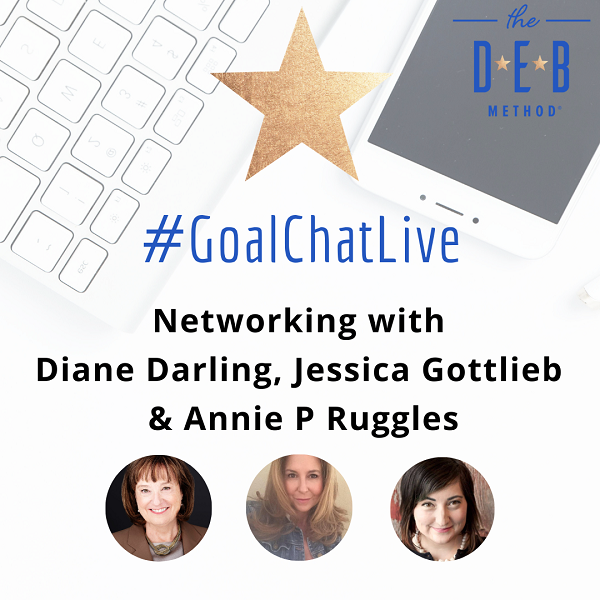 You can't reach your goals on your own. You need your peeps. This week on #GoalChatLive I talk about Networking with some of my peeps. My guests are Professional Networking Strategist Diane Darling, Marketing Consultant Jessica Gottlieb, and Founder of The Non-Sleazy Sales Academy Annie P Ruggles.
Our guests share their backstories, their connection to networking, networking goals and tips, and much more.
The Value of Networking
Annie: Networking is the life-blood of your business
Diane: It's how you meet new people in a new environment … because you are always in a new environment. It's about being helpful, kind
Jessica: It's being able to connect people you know and admire
Next Steps After Meeting New People …
Diane: Being prepared for networking is a mixture of skills, strategy, and serendipity. Remember, networking is an organic being
Jessica: It's a follow-up, but how you follow up depends on who they are. Sometimes it's haranguing people until they realize they want to meet you.
Annie: Time is money. If you are going to be somebody's best friend, why not start now! For entrepreneurs, ask yourself what level of formality is appropriate. Do not wait to be followed up with and/or make sure you are responding as yourself
Networking #GoalChatLive
Also, check out the full GoalChatLive conversation in the Twitter Moments Recap.
Our Guests Favorite Places to Meet New People
Annie: LinkedIn and conferences
Jessica: Grocery store, playing tennis, pilates, yoga. New favorite online place is Twitter spaces
Diane: Likes the randomness of the grocery store or the plane. Loves the nourishment of thoughtful one-on-one conversations
Goals
Annie: Interview someone you admire, even if it's just for fun! If you have not yet started a platform to interview people, what are you waiting for?
Diane: 1. Go backward to your network of people – say Hi. Shop in the back of your closet. 2. When there is an opportunity to ask a question at an event, ask the first question
Jessica: When in doubt, amplify the voices around you. Do this once a week, once a day, once an hour
Links
What's your best networking tip? Please share in the comments.
Next Week
Next week, we are talking about Business. Join the Twitter chat on Sunday, May 15, at 7pm PT on Twitter. Then, on Monday, May 16, at 4pm PT, my #GoalChatLive guests are Wanda Allen, Michelle Nicole McNabb, and Phyllis Pieri.
* * *
For more inspiration, motivation, and tips, follow @TheDEBMethod on Twitter, Facebook, and Instagram. And connect on LinkedIn.