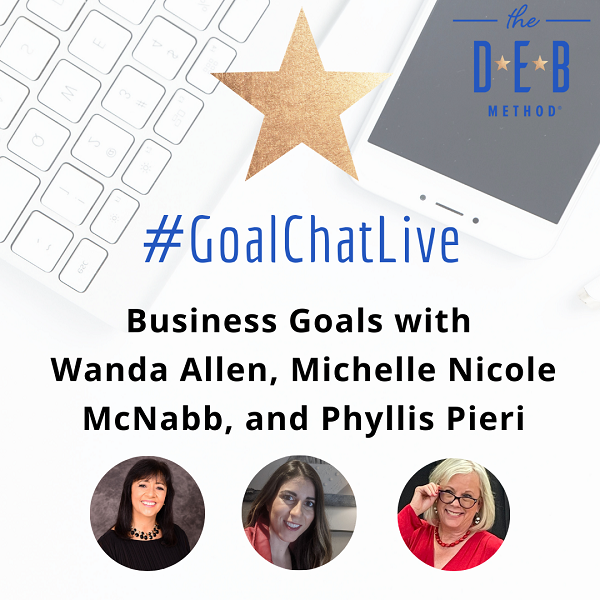 Do you have dreams of starting or building a business? Want some motivation, along with some expert advice? You've come to the right place! This week on #GoalChatLive, I speak with Follow-Up Sales Expert Wanda Allen, External Director of Events Michelle Nicole McNabb, and Franchise Expert Phyllis Pieri about Building Your Business and Business Goals.Wanda, Michelle, and Phyllis share their backgrounds, backstories, and why they love what they do, as well as tips for starting, amplifying, and building your business.
Getting Started
Wanda: You have to be passionate about it and you have to be committed. No need for Plan B. You need to focus on Plan A
Phyllis: Combine passion with the skillset you are really good at and the willingness to make it happen
Michelle: Consider freelancing before expanding
To Make Your Business Stand Out
Phyllis: You have to market. Hire a VA to make sure it gets done (reach out to Phyllis for tips on hiring a VA)
Wanda: It comes back to good old-fashioned service: customer service, prospect service. Serve your prospects well and you will turn them into clients
Michelle: Deliverables. How do you deliver your services?
Business Goals #GoalChatLive
Also, check out the full GoalChatLive conversation on Business Goals in the Twitter Moments Recap.
Business Goals
Michelle: Write down a wishlist of what you would delegate for your business. And one by one, start delegating. You don't need to master your weaknesses. Delegate
Phyllis: Create a Vision Board. Give yourself permission to dream big!
Wanda: Make 2 follow-up actions every working day. That's 40 calls (or emails, or other outreaches) a month and 480 a year. Bonus Tip: There is so much fear about following up. Face your fear, use a CRM, and make following-up a priority
Adds Michelle: Your follows don't all need to be to prospects, they can be potential partners, interviews, new connections
Final Thoughts
Michelle: Don't compare your stepping stones to someone else's milestones
Phyllis: You are your brand. Make sure your LinkedIn profile is up to date and your Facebook page is appropriate. Everything is public
Wanda: Keep your daily actions in alignment with your sales goals
Links
What's your best tip for building a business? Please share in the comments.
Next Week
Next week, we are talking about Paying it Forward. Join the Twitter chat on Sunday, May 22, at 7pm PT on Twitter. Then, on Monday, May 23, at 4pm PT, my #GoalChatLive guests are Howard Brodwin, Paul Higgins, and Tisha Janigian.
* * *
For more inspiration, motivation, and tips, follow @TheDEBMethod on Twitter, Facebook, and Instagram. And connect on LinkedIn.