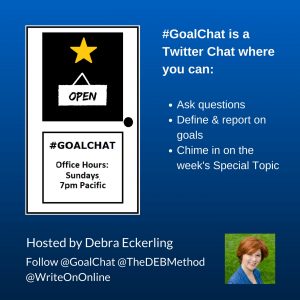 Join us for my #GoalChat Twitter Chat on Sundays at 7pm PT/10pm ET. Share wins, tweet your goals, and chime in on each week's special topic.
A Twitter chat is a conversation on Twitter, noted by a specific hashtag and revolving around a certain topic. In the case of #GoalChat, I will be hosting office hours each week. Share your goals and wins, stop by for support and encouragement, and chime in on the week's special topic. You can also submit any goal-setting challenges and questions!
To participate, follow the hashtag #GoalChat on Twitter or use a tool, such as TweetDeck or Hootsuite. You can also tweet your questions, using the #GoalChat hashtag, throughout the week. Follow @GoalChat, @TheDEBMethod, and @WriteOnOnline on Twitter.
Tweet suggestions for topics to @GoalChat.
#GoalChat Live
On April 13, 2020, I began hosting #GoalChatLive. Join me and a special guest Mondays at 4pm PT on the Mango Publishing Facebook Page, where we will be continuing the conversation on the week's special topic.
Read the Recaps
2019, 2020, and 2021
2018
12/30/18 – January and 2019 Goals
12/16/18 – 1st Annual #GoalChat Virtual Holiday Party & Potluck
5/20/18 – Business Development
4/15/18 – Setting Realistic Goals
2/18/18 – Dealing with Rejection
2/11/18 – Focusing & Avoiding Distractions
1/21/18 – Mission Statements & Mottos