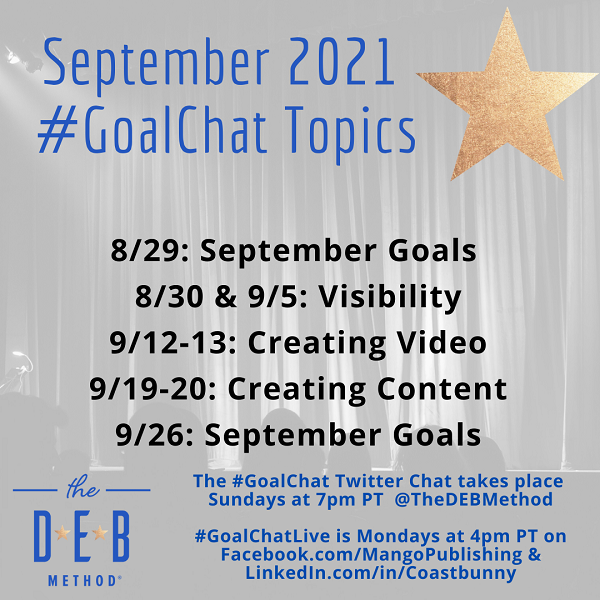 Are you ready for your close up? Fall is an excellent time to hit the reset button on your Visibility, which is the September 2021 GoalChat theme. We will also talk about creating video and creating content. The GoalChat Twitter chat is every Sunday night at 7pm PT. #GoalChatLive takes place on Mondays at 4pm PT on Facebook and LinkedIn.
Here are the September 2021 #GoalChat and #GoalChatLive Topics and Guests:
August 29: September Goals
August 30: Visibility Party with Colleen Biggs, Stacia Crawford, and Caterina Rando
September 5: Visibility
September 6: No Live Show
September 12: Creating Video
September 13: Guests are Dave Basulto, Sebastian de Mingo, and C.F. Jackson
September 19: Creating Content
September 20: Guests are Rick Broida, Erika Held, and Jonathan Moore
September 27: October Goals
* * *
#GoalChats are every Sunday at 7pm PT, and is Tweeted from @TheDEBMethod Twitter  account.
#GoalChatLive takes place on Mondays at 4pm PT from the Mango Publishing Facebook Page.
Read the Twitter Moments Recaps.