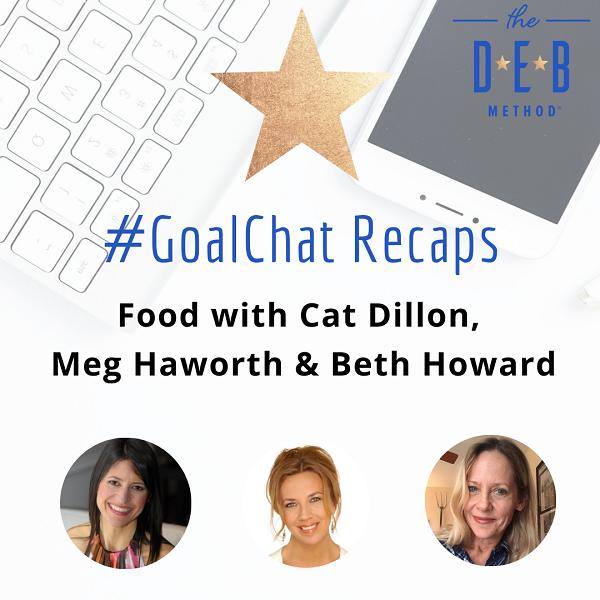 Food is Fun! It's also one of the best forms of self-care. On this week's #GoalChatLive, chef and eating coach Cat Dillon, RHN; private chef Dr Meg Haworth, author of Get Well Now and Done with Dairy – Giving Up Gluten; and pie baker and author Beth Howard, Making Piece and  Ms American Pie, joined me for one of my favorite topics! Warning: This episode may make you hungry!
Cat, Meg, and Beth shared their food journeys, as well as their connection to food. We also talked about tips for eating healthy, food for better sleep, food goals, and so much more.
Watch our Conversation on Food
Also, check out the full GoalChatLive conversation on Food in the Twitter Moments Recap.
Food Goals
Beth's Goals: Make and gift Hommade Zucchini Bread and Lemon Merangue Pie
Goal from Beth: Make something and gift it to someone else
Meg's Goal: Add more green powder to her diet
Goal from Meg: Set food goals. Change your food quality. Add a high quality green powder
Cat's Goal: Gift someone food
Goal from Cat: Think about dietary diversity
Final Thoughts
Beth: Don't be afraid to make your own pie crust
Meg: Food can heal you
Cat: Make the time to cook
Links
Learn more about Cat Dillon, RHN, Dr Meg Haworth, and Beth Howard
Check out Meg's books Get Well Now and Done with Dairy – Giving Up Gluten, as well as her 21 Days to Healthy Eating program
Read Beth's books Making Piece and  Ms American Pie and watch her videos on The World Needs More Pie YouTube channel
Read my article on The Instant Pot for Productivity
Join the Write On Online Facebook group for community and conversation
Get your copy of my latest book, Your Goal Guide: A Roadmap for Setting, Planning and Achieving Your Goals. Then, join the Your Goal Guide Facebook group.
What's your best food tip? Please share it in the comments.
* * *
On the next #GoalChat we will be talking about August wins and September goals! Join the Twitter chat on Sunday, August 29, at 7pm PT on Twitter. Then, on Monday, August 30, at 4pm PT, we will be talking about Visibility with Colleen Biggs, Stacia Crawford, and Caterina Rando on #GoalChatLive.
* * *
For more inspiration, motivation, and tips, follow @TheDEBMethod on Twitter, Facebook, and Instagram. And connect on LinkedIn.