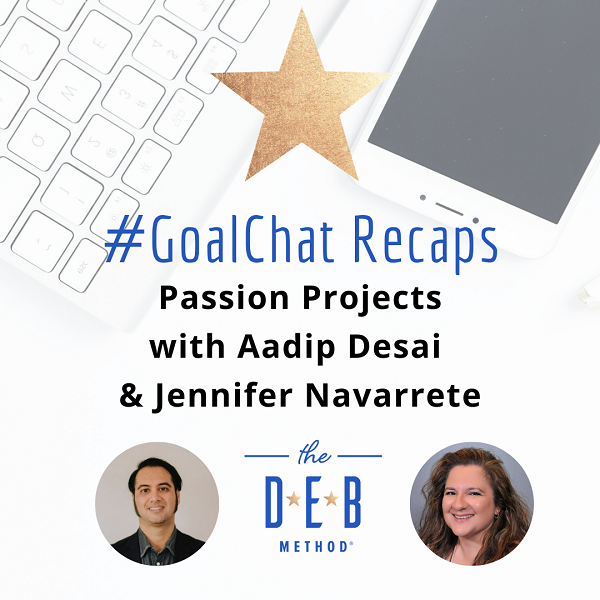 On this week's #goalchatlive I talk about Passion Projects with Aadip Desai and Jennifer Navarrete. November is National Novel Writing Month (#NaNoWriMo) and National Podcast Post Month (#NaPodPoMo). But any time is the perfect time to pursue a #PassionProject.
Aadip is a screenwriter and founder of the LA TV Writers group on Facebook. Jennifer is a media mixologist, podcast host/producer, and founder of National Podcast Post Month! Along with tips and tons of inspiration, Aadip and Jennifer talked about their journeys, projects, passion projects, and plans.
They also shared their mottos. Aadip's is Benevolent Icon. Jennifer's is Learn, Share, Grow.
Watch our Conversation on Passion Projects
Also, check out the full GoalChatLive conversation on Passion Projects in the Twitter Moments Recap.
Passion Project Goals
Aadip: Live more authentically. Stop caring what other people think
Jennifer: Get your message out there, in whatever format makes sense for you
Deb: Work on your passion project for 15 minutes a week/an hour a month
Final Thoughts
Aadip: Remember to sleep more
Jennifer: Build breaks into your day
Deb: Whatever your passion project is, go for it! We know you can do it!
Links
What's your best tip for finding the time and energy to work on your passion project? Please share it in the comments.
* * *
On the next #GoalChat we will be talking October wins and November Goals. Join the Twitter chat on Sunday, October 31, at 7pm PT on Twitter. Then join me, Nicole Bayliss, Tisha Janigan, and Jenny Mulks on November 1 at 4pm PT for our #GoalChatLive on Hope.
* * *
For more inspiration, motivation, and tips, follow @TheDEBMethod on Twitter, Facebook, and Instagram. And connect on LinkedIn.