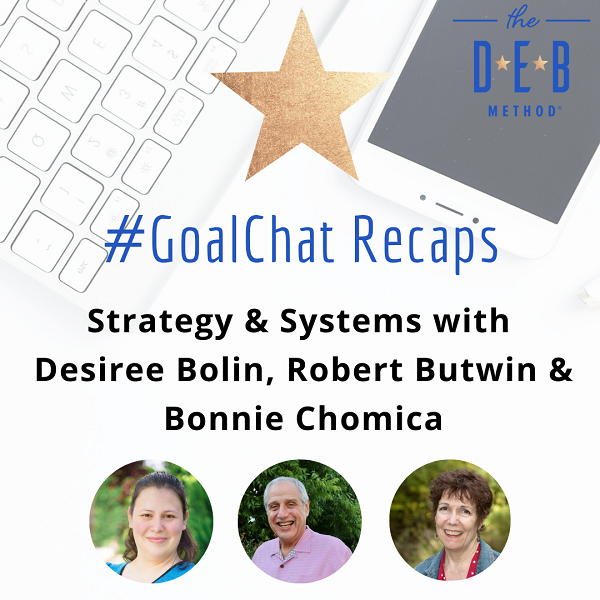 To get what you want, you need to know what you want … and then make a plan! On this week's #goalchatlive I spoke with Desiree Bolin, Robert Butwin, and Bonnie Chomica about Strategy and Systems. I met them all through networking events, so it makes sense that networking as a strategy for business growth was a common theme in the conversation. 
About my guests:
Desiree Bolin is the Founder & CEO of Virtually Sourced Solutions
Robert Butwin is a Business Strategist and Networking Mentor
Bonnie Chomica is the Content Creation Mentor
Strategy and Systems Tips
Robert: Be as authentic as possible. Share who you are with others and make genuine connections so you can support each other
Desi: Have strategies and systems in place to build your sustainable business
Bonnie: Be self-aware. Know your skills and passions, as well as your level of commitment
Watch our Conversation on Strategy & Systems
Also, check out the full GoalChatLive conversation on Strategy and Systems in the Twitter Moments Recap.
Strategy Goals
Desi: Get a CRM
Bonnie: Get a list-building strategy started. Create a landing page and a lead magnet. Start emailing your subscribers
Robert: Change your mindset. Go to YouTube and find Jim Rohn, Dr Robert Anthony, and Michael Gerber for inspiration.
Note: You can also watch the GoalChatLive replays for inspiration and motivation!
Final Tips  
Desi: Dive deep and get to know people. Have conversations
Bonnie: Put your content out there. Be of service to your tribe
Robert: The more you can give HOPE to others, the more you get back.
Links
Learn more about Desiree Bolins and Virtually Sourced Solutions
Email Robert Butwin to get his list of 47 networking groups
Learn more about Bonnie Chomica
Bonnie's Favorite Tools: Wix website, Less Annoying CRM, Convert Kit for email
Desi's Favorite tools: CRMs – Hubspot Keap by Infusionsoft, Zapier, Calendar scheduling apps
Robert's Favorite Tools: Matchmaker.fm, Podmatch, Speakers Playhouse, and Clubhouse
Join the Write On Online Facebook group for community and conversation
Get your copy of my latest book, Your Goal Guide: A Roadmap for Setting, Planning and Achieving Your Goals. Then, join the Your Goal Guide Facebook group.
What are your best tips for creating strategy and systems? Please share it in the comments.
* * *
On the next #GoalChat we will be talking about Passion Projects. Join the Twitter chat on Sunday, October 24, at 7pm PT on Twitter. Then join me, Jennifer Navarrete and Clyve Rose on October 25 at 4pm PT for #GoalChatLive.
* * *
For more inspiration, motivation, and tips, follow @TheDEBMethod on Twitter, Facebook, and Instagram. And connect on LinkedIn.