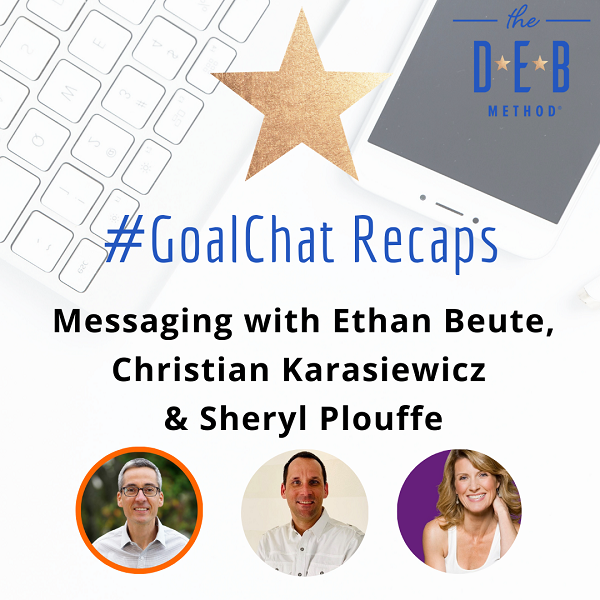 Messaging, communication, and connection go hand-in-hand. Your message is an integral part of who you are and what you have to offer the world, professionally and personally. This week,
Ethan Beute
,
Christian Karasiewicz
, and
Sheryl Plouffe
joined me for a message-filled conversation about messaging!
About my guests:
Ethan Beute is Chief Evangelist of BombBomb and co-author of Human-Centered Communication
Christian Karasiewicz is the Owner of Social Chefs, Content Marketing Manager at StreamYard, and host of the Launch Your Live show
Sheryl Plouffe is a Video Strategist & Repurposing Expert, Cash in on Camera
Your message combines authority and authenticity while highlighting your purpose and passion … To get your message out there, get out there! Imperfection shows humanity. Step out of your comfort zone and keep going!
Watch our Conversation on Messaging
Also, check out the full GoalChatLive conversation on Messaging in the Twitter Moments Recap.
Messaging Goals
Ethan: The next time you are creating a message, think about what's in it for your audience. Be clear about how you help.
Christian: Whatever is holding you back, start on it. Stop throwing obstacles in your own way. Get uncomfortable.
Sheryl: Think of yourself as the guide on this journey (not the hero). Bring that type of energy into the content you create.
BONUS: Connect with everyone on LinkedIn. Send a note with your connection request, then send a video message once you are connected.
Final Thoughts
Ethan: If you care, create videos. Humans will see who you are/what's behind the message.
Sheryl: Park the perfectionism and be seen! Move out of your comfort zone.
Christian: Don't expect your first message to have the impact you want. It may take time. Keep going!
Links
How do you create an impactful message? Please share it in the comments.
* * *
On the next #GoalChat we will be talking about Systems and Support. Join the Twitter chat on Sunday, October 17, at 7pm PT on Twitter. Then join me, Deseree Bolin, Robert Butwin, and Bonnie Chomica on October 18 at 4pm PT for #GoalChatLive.
* * *
For more inspiration, motivation, and tips, follow @TheDEBMethod on Twitter, Facebook, and Instagram. And connect on LinkedIn.