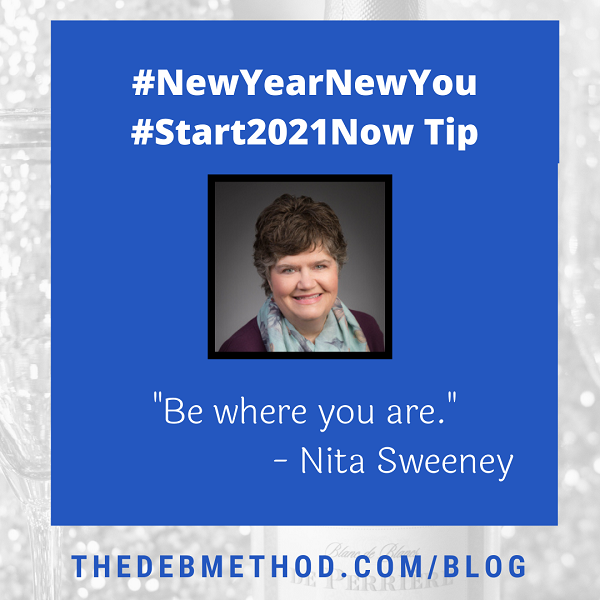 Today's #NewYearNewYou #Start2021Now Tip comes from award-winning wellness author, marathoner, meditator, and dog-mom Nita Sweeney, Depression Hates a Moving Target. I asked Nita to share her wins, goals, and motto, along with her tip to #Start2021Now.
Biggest Win in 2020
I spoke at the Run Pain Free Summit on a panel with Olympic medalist Deena Kastor and Boston Marathon icon Kathrine Switzer about the emotional and mental aspects of running.
3 Big Goals for 2021
Launch my third book
Grow the Mind, Mood, and Movement Facebook Group to 5,000 members
Grow my email list to 5,000 subscribers
Motto for 2021
Keep your head where your feet are.
Nita Sweeney's Tip to #Start2021Now
Be where you are. The love you want is right here, in this moment.
* * *
What's your tip to #Start2021Now? Please share in the comments.
* * *
#GoalChatLive on Journaling with Nita Sweeney
Nita talked about journaling on #GoalChatLive last summer. Read the recap and watch the video.
* * *
Every day in December, I will post a #NewYearNewYou #Tip on @TheDEBMethod social media accounts. Follow @TheDEBMethod on Twitter, Facebook, and Instagram. And connect on LinkedIn.
Grab your copy of my latest book, Your Goal Guide: A Roadmap for Setting, Planning and Achieving Your Goals, and then  join the Your Goal Guide Facebook group.