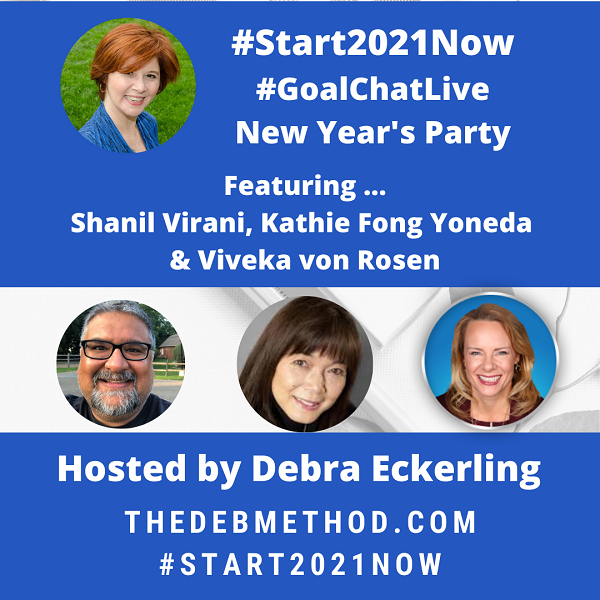 Happy New Year! Since I like to #CelebrateEverything, of course we had a #NewYearNewYou #GoalChatLive Party!

In December I invited friends from various facets of my life – social media, writing, community – for a virtual party to #Start2021Now. It was such a hit, I decided to put more friends together for the Calendar New Year to see what conversations would unfold.
My guests for the #Start2021Now #GoalChatLive:
It was another amazing experience, and worth watching!
The group talked about lessons learned in 2020 – and the hope that we could use that information as we move forward. Guests also shared their aspirations and goals for 2021. This included side hustles – like Viv's new #64vital venture – – more family time, and better balance.
Watch the #NewYearNewYou #GoalChatLive Party
Throughout January, I will continue to post #NewYearNewYou #Tips on @TheDEBMethod social media accounts.
Here are tips from our #NewYearNowYou #GoalChatLive Party Guests
Viveka: Position yourself as the expert or influencer you plan to be
Shanil: You're stronger than you think you are. Remember that!
Kathie: Come up with three possibilities of how something can turn out, and explore them.
Want to learn more?
What's your tip to make the most out of 2021? Please let us know in the comments.
Next Week
On next week's #GoalChat we will be talking about Virtual Events. Join the Twitter chat on Sunday, January 10th, at 7pm PT on Twitter. Then, on Monday, January 11th, at 4pm PT, Jeff Pullver will join me on #GoalChatLive.
* * *
For more #NewYearNewYou tips, follow @TheDEBMethod on Twitter, Facebook, and Instagram. And connect on LinkedIn.