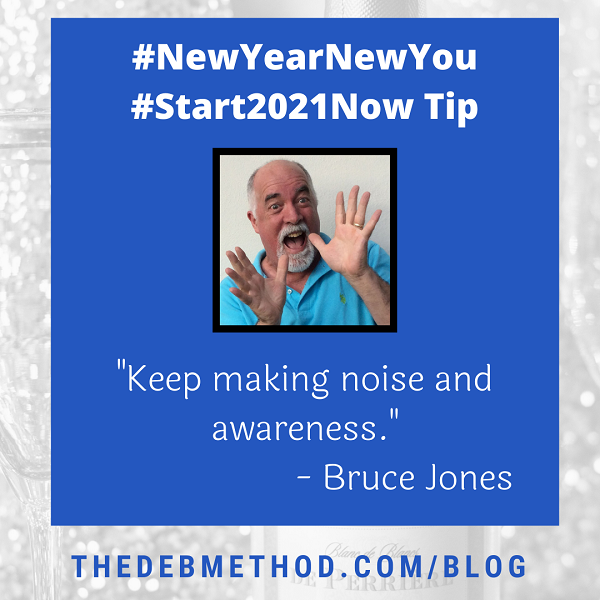 Today's #NewYearNewYou #Start2021Now Tip comes from J. Bruce Jones, author of more than 50 books and products. Bruce loves teaching about self-publishing and product creation. I asked Bruce to share his wins, goals, and motto, along with his tip to #Start2021Now.
Biggest Win in 2020
My biggest win in 2020 was finally closing my design business after 30 years. Trying to close a Sub Chapter S corporation and move to another state took me four years of effort. No one really knows how to do this: not my accountant, or lawyer or other people. Corporations are living things and they have so many hooks in the state and business world. Getting it finally closed and no more letters from the state asking for this fee or that fee. It was a lot of work.
My second win was reorganizing and cleaning up my e-commerce and regular websites..
3 Big Goals for 2021
Continue the clean up of my e-commerce websites
Update the second edition of my Self-Publishing SECRETS book
Hope to get back to traveling again
Motto for 2021
Make Stuff, Sell Stuff
J. Bruce Jones' Tip to #Start2021Now
Keep making noise and awareness, and give people a clear call to action.
* * *
How do you like to "make noise?" Please share in the comments.
* * *
Every day in December, I will post a #NewYearNewYou #Tip on @TheDEBMethod social media accounts. Follow @TheDEBMethod on Twitter, Facebook, and Instagram. And connect on LinkedIn.
Grab your copy of Your Goal Guide and then  join the Your Goal Guide Facebook group.