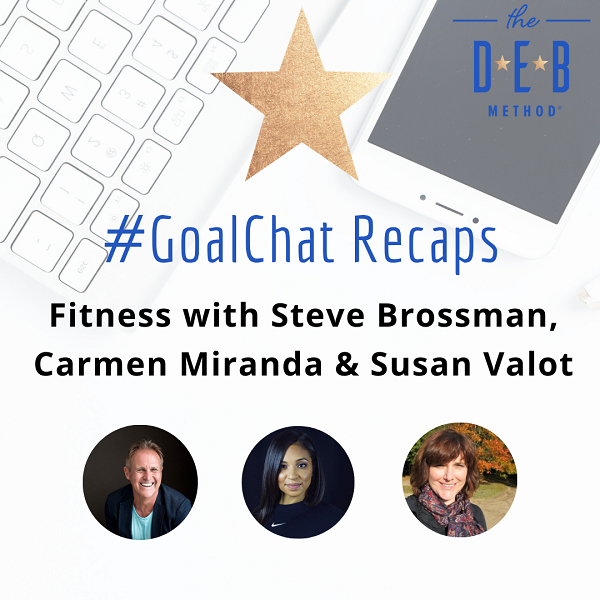 This week on GoalChatLive, we talked about Fitness. The Sales Innovator Steve Brossman, Fitness and Wellness Coach Carmen Miranda, and Award-winning Radio Journalist and Podcast Host/Producer Susan Valot joined me for the conversation. Fitness ties into this month's theme of fun, since the more fun your fitness choice is, the more likely you are to invest in your wellness.
According to our guests, fitness is …
Steve: Whatever you want it to be for your health goals
Carmen: A lifestyle … you have to fit it into your life
Susan: Having the strength and energy to do what you want to do
Steve, Carmen, and Miranda shared their fitness journeys, exercise preferences, and some anecdotes, as well as tips and encouragement for finding and embracing wellness.
Watch our Conversation on Fitness
Also, check out the full GoalChatLive conversation on Fitness in the Twitter Moments Recap.
Advice for the Fitness Averse
Steve: Build your own morning routine
Carmen: Think about why you feel this way about fitness, so you can make a change and do something that brings you joy instead
Susan: Find what works for you, time-wise and exercise-wise
Your Fitness Goals 
Susan: Make a commitment to something, even if it's one day a week
Steve: Set an attendance goal, set a stretch/extra fitness goal for a winning effect
Carmen: Schedule 10-minute movement appointments
Links
What's your best fitness tip? Please share it in the comments.
* * *
On the next #GoalChat we will be talking about Imagination! Join the Twitter chat on Sunday, August 15, at 7pm PT on Twitter. Then, on Monday, August 16, at 4pm PT, David Chen and Tom Moser will join me for #GoalChatLive.
* * *
For more inspiration, motivation, and tips, follow @TheDEBMethod on Twitter, Facebook, and Instagram. And connect on LinkedIn.