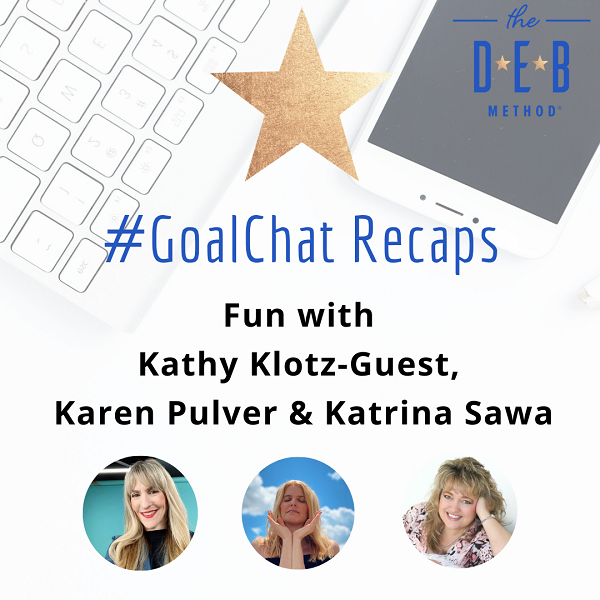 For the August Fun-Themed #GoalChatLive Party I was joined by Improv in Business Speaker/Trainer Kathy Klotz-Guest; Teacher and Founder of Grateful Goddesses Karen Pulver; and multi-faceting Entrepreneur, Speaker, and Author Katrina Sawa. Whereas the topic was fun, we delved into choosing yourself, embracing change, and thriving,
At the beginning of every month, I bring together friends from different areas of my life to chat, check-in, and offer inspiration.
My guests for the Fun-Themed #GoalChatLive:
We discussed the value of improv ("Yes, and" yourself); finding – and scheduling – fun (Put yourself first, clients second, marketing third), avoiding burnout (incorporate play into your life), and more.
Watch the Fun-Themed August #GoalChatLive
August  Fun Goals 
Karen: Let go. Stop trying to control everything.
Katrina: Put a vacation on the calendar. Whatever your money goal, double it. And trust.
Kathy: Every day, do something fun that brings you joy. Track it. Do it for 30 days
Final Tips for Fun 
Katrina: Just do it!
Karen: Gratitude and fun go together
Kathy: Be yourself! However, you love to play, have fun!
Links
What's your best tip for incorporating fun into your life? Please share in the comments.
Next Week
On the next #GoalChat we will be talking about Fitness. Join the Twitter chat on Sunday, August 8, at 7pm PT on Twitter. Then, on Monday, August 9, at 4pm PT, Steve Brossman, Carmen Miranda, and Susan Valot will join me for #GoalChatLive.
* * *
For more inspiration, motivation, and tips, follow @TheDEBMethod on Twitter, Facebook, and Instagram. And connect on LinkedIn.
And get your copy of my latest book, Your Goal Guide: A Roadmap for Setting, Planning and Achieving Your Goals. Then join the Your Goal Guide Facebook group.