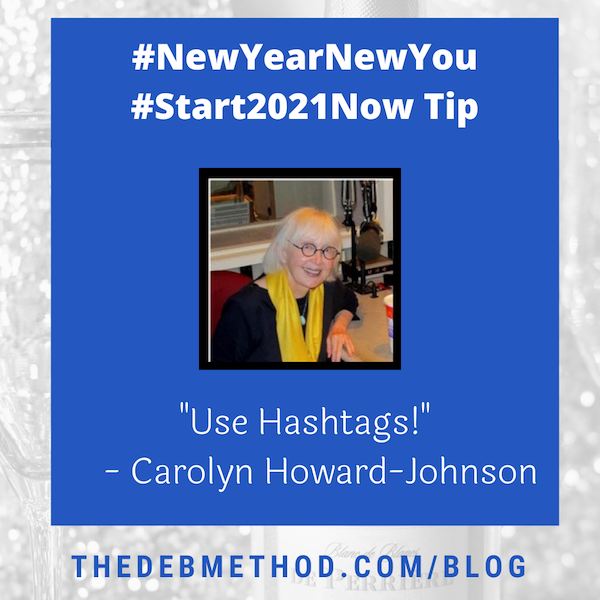 Today's #NewYearNewYou #Start2021Now Tip comes from author Carolyn Howard-Johnson. Her multi award-winning  HowToDoItFrugally Series of books has helped writers worldwide.
Biggest Win in 2020
My biggest win of 2020 was doing a keynote for a writers conference out-of-state. It was in Michigan, the land of the Yoopers (Michigan Upper Peninsula). Of course, it was nearly canceled but my super publisher Victor Volkman, the powers-that-be at  UPPAA (Upper Peninsula Publishers and Authors Association), and Zoom pulled through. The biggest plus about all this confusion is that the entire keynote is available free for all to see.
In all the years I have been speaking (and loving it!), that has never been available. Conferences tend to sell tapes, not give away their keynote. And other than beating Covid, it's the reason this is my 2020 favorite. Getting to share with so many on demand!
Big Goals for 2021 & Motto
My biggest goal of 2021 is to reedit The Frugal Editor (third edition) and, with Modern History Press, reach more authors than ever. "The More You Know…" has become a new motto and my experience as an editor tells me that most if not all authors need to know more about editing and related publishing skills. It will be released fall of 2021.
I also am a bit tired of hearing friends, clients, and  fellow authors tell me they aren't on Twitter. It has been so beneficial. Twitter, the land that doesn't discourage marketing! So goal two? A new slender book in the #HowToDoItFrugally Series on Frugal Tweeting for Authors. It's a working title!  Send me your ideas! I'm shooting for spring, 2021.
Carolyn Howard-Johnson's Tip to #Start2021Now
How can I not suggest a big tip that Deb is using so effectively starting with #GoalChat? Use hashtags.
I love the idea of registering them. I did it years ago with Twubs.com for #SharingwithWriters #HowToDoItFrugally #MovieReviews #BacktoLiterature #FrugalBookPromoTips #TheFrugalEditor and about a dozen more. Twubs supplies an individualized page for you and collects your hashtags there along with anyone else who happens to use yours. It's fun and great exposure.
* * *
What hashtags do you use? Please share in the comments.
* * *
Every day in December, I will post a #NewYearNewYou #Tip on @TheDEBMethod social media accounts. Follow @TheDEBMethod on Twitter, Facebook, and Instagram. And connect on LinkedIn.