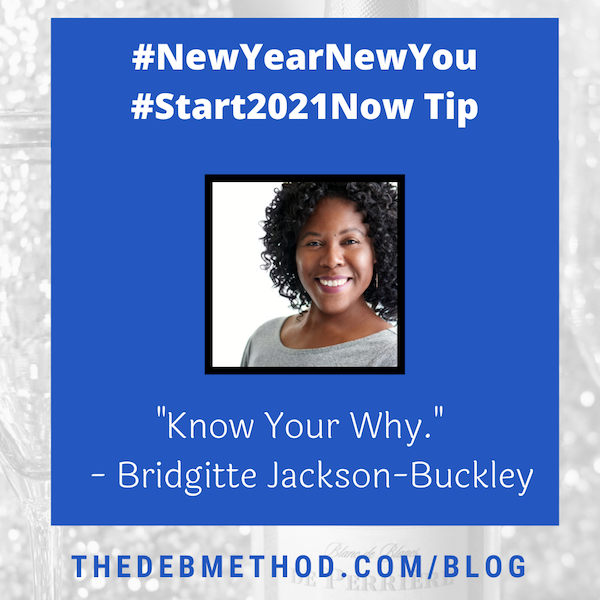 Today's #NewYearNewYou #Start2021Now Tip comes from author Bridgitte Jackson-Buckley, the author of The Gift of Crisis. She lives in Los Angeles and is currently in the process of opening Little Visioneers, a bookstore specializing in books authored by women.
I asked Bridgitte to share her wins, goals, and motto, along with her tip to #Start2021Now
Biggest Win in 2020
My biggest win in 2020 was the decision to move forward with my long-term love affair with books and open a bookstore.
3 Big Goals for 2021
Open the physical location of the Little Visioneers Bookshop.
Trust (and enjoy) the process of learning something new – as in running a bookstore!
Sell books. Lots of them!
Motto for 2021
Little visions are the small beginnings from which great things can come.
Bridgitte Jackson-Buckley's Tip to #Start2021Now
Know your why. Be clear on the why behind your vision – why you're doing what you're doing.
* * *
What's your why? Please share in the comments.
* * *
Happy #Start2021Now New Year
Bridgitte Jackson-Buckley was one of guests for the #DEBcember 1st Virtual New Years Party. Read the recap and watch the video.
* * *
Every day in December, I will post a #NewYearNewYou #Tip on @TheDEBMethod social media accounts. Follow @TheDEBMethod on Twitter, Facebook, and Instagram. And connect on LinkedIn.
Grab your copy of Your Goal Guide and then  join the Your Goal Guide Facebook group.