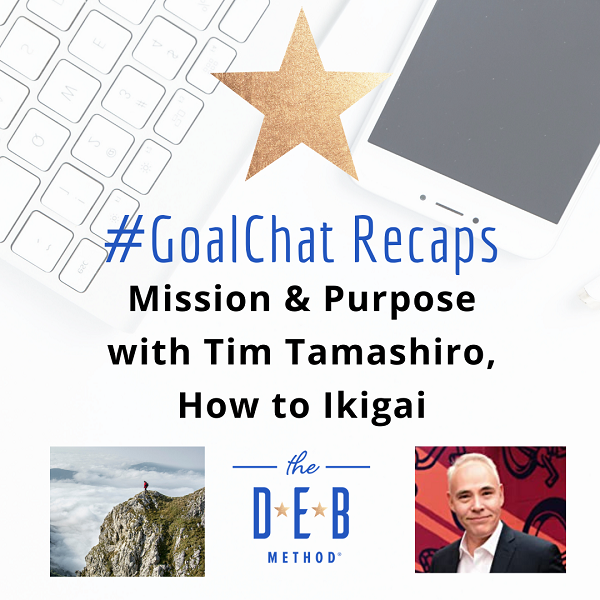 I was thrilled to have fellow Mango author Tim Tamashiro, How to Ikigai, join me for #GoalChatLive to talk about Mission and Purpose. It was the perfect #NewYearNewYou topic to start #Start2021Now.
Ikigai, which comes from Okinawa, Japan, is an ancient philosophy for life's purpose. Tim's Ikigai is to delight. Mine is to motivate!
Ikigai has four simple directions:
1. Do what you love
2. Do what you're good at
3. Do what the world needs
4. Do what you can be rewarded for
This is very much in alignment with the D in The D*E*B Method: Determine Your Mission. Tim and I had a great conversation about  the value of mission and purpose, the necessity of exploration and commitment to yourself, and so much more. Tim talked about his "Ikigap" year, shared four stages of adulthood – Athlete, Warrior, Senator, Spirit – and even delighted us with a song.
Watch #GoalChatLive on Mission and Purpose
Check out Sunday night's #GoalChatLive conversation on Mission & Purpose in the Twitter Moments Recap.
Bonus Goal: Mission and Purpose
Links
* * *
What is your mission and purpose? Please share in the comments or on the video.
* * *
Next Week
On next week's #GoalChat we will be talking about Healthy Habits. Join the Twitter chat on Sunday, December 20th, at 7pm PT on Twitter. Then, on Monday, December 21, at 4pm PT, fellow Mango author Elise Marie Collins will join me on #GoalChatLive.