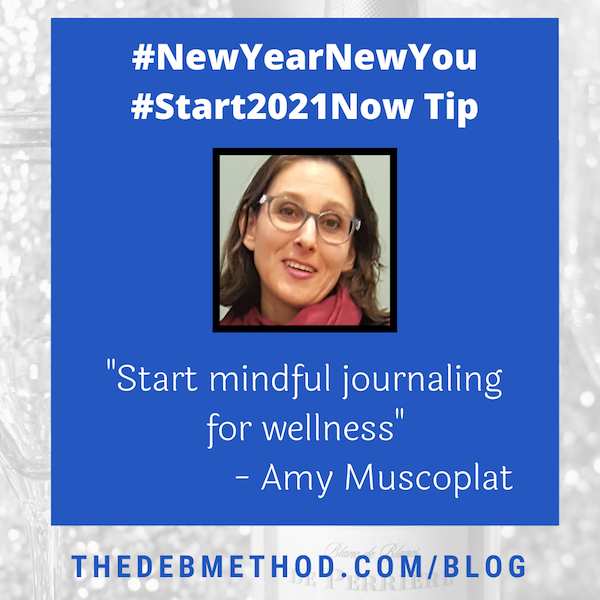 Today's #NewYearNewYou #Start2021Now Tip comes from Amy Muscoplat, crafter, writer, librarian, and owner, Joyfestival Industries.Amy helps people create happiness, joy ,and wellness in their lives through elements of gratitude, positivity, connection and shared activity!
I asked Amy to share her wins, goals, and motto, along with her tip to #Start2021Now
Biggest Win in 2020
Spending time every day making a point to "spot the good." It's made all the difference!
3 Big Goals for 2021
Write towards my book goal and writing goaltopia roadmap!
Spend fun time online with faraway loved ones
Create and build community through my Mindful Journaling for Wellness and Craft Your Way to Wellness programs..and with program participants.
Motto for 2021
You can't afford negative thinking!
Amy Muscoplat's Tip to #Start2021Now
Start mindful journaling for wellness. The more we get into the habit of using our journals to write down what's happening in life – or what we want to happen – and journaling our thoughts and feelings about it, the more this becomes a habit.  You can also use journaling prompts to help give your journaling a jump-start.
After you've taken time to write in your journal, you'll want to try to write a short (1-2 line) reflection about "what you notice about what you wrote," or "what stands out to you about what you wrote," or "what calls to you to take action" after having re-read your journal entry.   Taking this time after journaling to write a short, mini-reflection can help open you up to using your journal-writing practice for both self-compassion and forward momentum-building in life.  Journal on friends…
* * *
Do you journal regularly? What's your journaling style? Please share in the comments.
* * *
Every day in December, I will post a #NewYearNewYou #Tip on @TheDEBMethod social media accounts. Follow @TheDEBMethod on Twitter, Facebook, and Instagram. And connect on LinkedIn.
Read my article about Journaling for Problem Solving.
Grab your copy of Your Goal Guide and then  join the Your Goal Guide Facebook group.