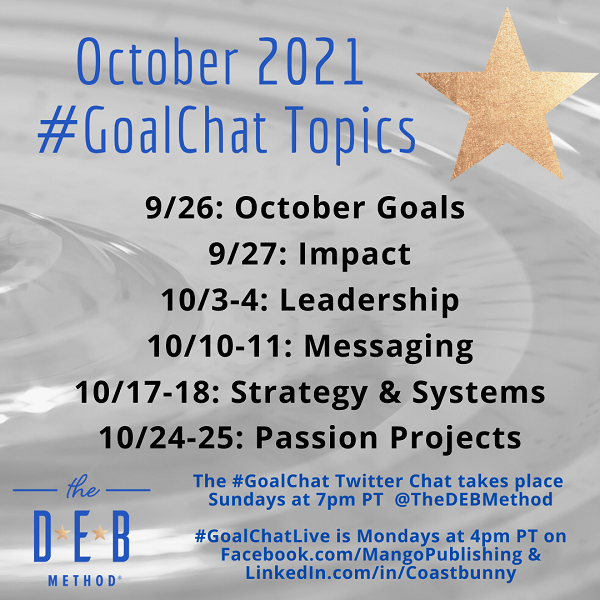 You want to make an impact, but what exactly does that mean? And how do you do it? Impact is the October 2021 theme. We will talk about leadership, messaging, systems, and more. The GoalChat Twitter chat is every Sunday night at 7pm PT. #GoalChatLive takes place on Mondays at 4pm PT on Facebook and LinkedIn.
Here are the October 2021 #GoalChat and #GoalChatLive Topics and Guests:
September 26: October Goals
September 27: Impact Party with Civia Caroline, Kimberley Day, and Karen Laos
October 3: Leadership
October 4: Guests are Jessica Dewell, Tom G Reid, and Jennifer Tsang
October 10: Messaging
October 11: Guests include Sheryl Pouffe
October 17: Strategy & Systems
October 18: Guests are Desiree Bolin, Robert Butwin, and Bonnie Chomica
October 24: Passion Projects
October 25: Guests include Jennifer Navarrete and Clyve Rose
* * *
#GoalChats are every Sunday at 7pm PT, and is Tweeted from @TheDEBMethod Twitter account.
#GoalChatLive takes place on Mondays at 4pm PT from the Mango Publishing Facebook Page and my LinkedIn Live.
Read the Twitter Moments Recaps.