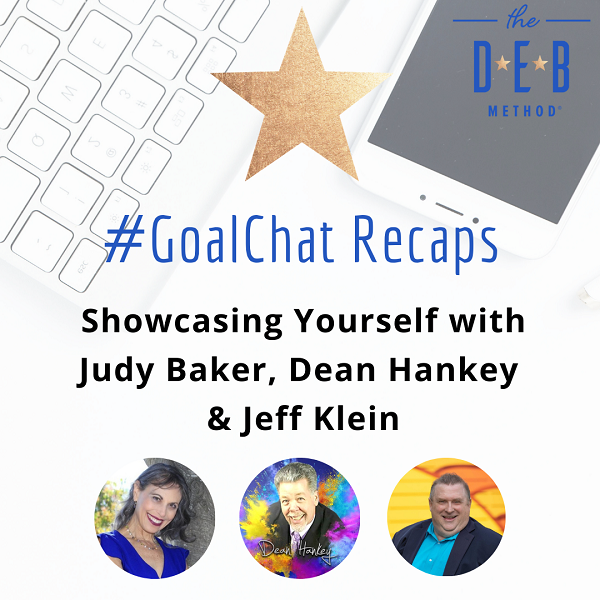 On this week's #GoalChatLive, Book Marketing Mentor Judy M Baker, Marketing Magician Dean Hankey (Pay it Forward & Profit), and Business Speaking Sherpa Jeff Klein (Speaker Coop) joined me to talk about Showcasing Yourself. The threesome – who are fans of speaking for showcasing yourself – share the origins of their "monikers," advice for standing out, and more.
The bottom line: You can only share what you know – and how you help – if people know who you are. To take it even further, according to my guests, "If you have the answer, you have the obligation to share the solution."
To be successful:
Judy: Develop relationships
Jeff: Share your best stuff and tell people how they can hire you
Dean: Add value that generates impact and then profit
How to Stand Out When Speaking
Jeff: Claim your expertise … Remember, once you are introduced as the expert … that is you!
Judy: You want to have signature pieces so people will remember what you said and how you made them feel. Have a strong opening and closing. Wear your brand colors. And make sure the way you look matches what you are saying
Dean: Challenge people's assumptions. Do something outrageous. Create experiences
Jeff: You need some form of activity to engage the audience
Watch #GoalChatLive on Showcasing Yourself 
Also, check out the full GoalChatLive conversation on Showcasing Yourself in the Twitter Moments Recap.
Improve Your Speaking & Calm the Nerves
Judy: Stand up straight. And breathe
Jeff: Speaking is a skill. The better prepared you are, the less nervous you will be
Dean: Acknowledge your nerves, be genuine. People respond to your humanity more than they do to your skill
Jeff: Integrity and vulnerability are key
Goals from Our Guests
Dean: Become an askaholic. Ask 5 times a day, 5 days a week: "Who can I help? How can I help?"
Judy: Create one thing a day that will take less than 2 minutes to share. For instance, authors, pick out 12-24 items from your book, turn them into quotes, and schedule them to repeat on social media. It will catch people's attention
Jeff: Perfect is the enemy of great! Once you figure out what you are an expert at and what you love to do, just do it! Quit planning, editing, googling … Start doing …
Deb: Track your wins. It will help you stay motivated to keep moving forward
Final Thoughts
Jeff: Make 2022 amazing
Judy: Spread joy
Dean: Be more fulfilled
Links
How do you showcase yourself? Please share in the comments.
Next Week
On the next #GoalChat we will be talking about January and 2022 Goals. Join the Twitter chat on Sunday, January 2, at 7pm PT on Twitter. Then, on Monday, January 3 at 4pm PT, Julie Riley, Annie P Ruggles, and Jennifer Watson join me on #GoalChatLive.
* * *
For more inspiration, motivation, and tips, follow @TheDEBMethod on Twitter, Facebook, and Instagram. And connect on LinkedIn.
And get your copy of my latest book, Your Goal Guide: A Roadmap for Setting, Planning and Achieving Your Goals. Then join the Your Goal Guide Facebook group.