The GovCast with Jack Siney – November 24, 2021
The Empower Hour with Dufferin Media – November 3, 2021
#LeadLoudly Strategic Goal-Setting Strategies for Leaders Twitter Chat – October 28, 2021
Enlightening Conversations with Nicole Bayliss – October 14, 2021
Build Well-being into the Workplace – In the Lead Show – September 30, 2021
36: On Goal-Setting, Theme Songs & Ally McBeal (feat. Debra Eckerling) Too Legitimate to Quit Podcast with Annie P Ruggles – August 16, 2021
Top Tips to Avoid Burnout – 10 Business Experts Advise by Jessica Dewell, Red Direction – July 29, 2021
Entrepreneur Success Story with Debra Eckerling of The DEB Method – Intuitive Turning Points with Dr Meg Haworth – July 16, 2021
What's Your Summer Fun Goal? – Writers on the Move Guest Post – July 10, 2021
Ask the Expert: Goal-Setting for Podcasters – AmplifYOU Podcast with Michele Elise Abraham – July 7, 2021
7 Ways Authors Can Support their Author Friends: Kindled Spirits – Writers on the Move Guest Post – June 10, 2021
Powerful Goal-Setting Method: A Deep Dive with Debra Eckerling Ask Avi Arya – June 9, 2021
The Walk-Talk Challenge podcast with Jennifer Navarrete – May 25, 2021
7 Ways to Be Healthier Right Now – Writers on the Move Guest Post – May 10, 2021
Meet the Authors: Conversations with Women Who Write – Ladies Take the Lead – May 8, 2021
Know What You Want & Set That Goal! TV Industry Wisdom Bits with Suzanne Gundersen – April 11, 2021
How to Choose Yourself – Writers on the Move Guest Post – April 10, 2021
Rhino Julie Interviews Goal-Setting Expert Debra Eckerling – April 8, 2021
Creating a Live Show to Broaden Your Reach – Streamyard Live Stream Impact Show with Julie Riley – March 15, 2021
5 Things that Stop Authors from Blogging … and the Easy Fixes – Writers on the Move Guest Post – March 10, 2021
Achieve Your Goals with Debra Eckerling – Focus & Freedom for Entrepreneurs Podcast with Val Low – March 9, 2021
I Must Be Doing Something Right – Dennis Amador Cherry's Blog – March 7, 2021
#FebruaryReset 10 Tips to Restart Your Year – Writers on the Move Guest Post – February 10, 2021
Book Nook: Books to Improve Your Emotional and Physical Health from Mango Publishing – Motherhood Moment – January 23, 2021
5 Items for #GoalTopia Inspiration – Writers on the Move Guest Post – January 10, 2021
The D*E*B Method For Setting Goals With Debra Eckerling – Build Live Give Podcast with Paul Higgins – January 5, 2021

Stress-Free Goal-Setting – The Example Show with Ryan Swanstrom on Amazon Live – December 30, 2020
LinkedIn Live with Beth Granger – December 29, 2020
Books Make Great Gifts – NitaSweeney.com – December 2020
Keith Spiro Communicast: Top Goal Setting Coach Deb Eckerling suggests Starting 2021 Now – Manchester InkLink- November 30, 2020
#BookCampPD Twitter Book Club, Featuring Your Goal Guide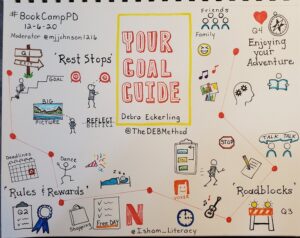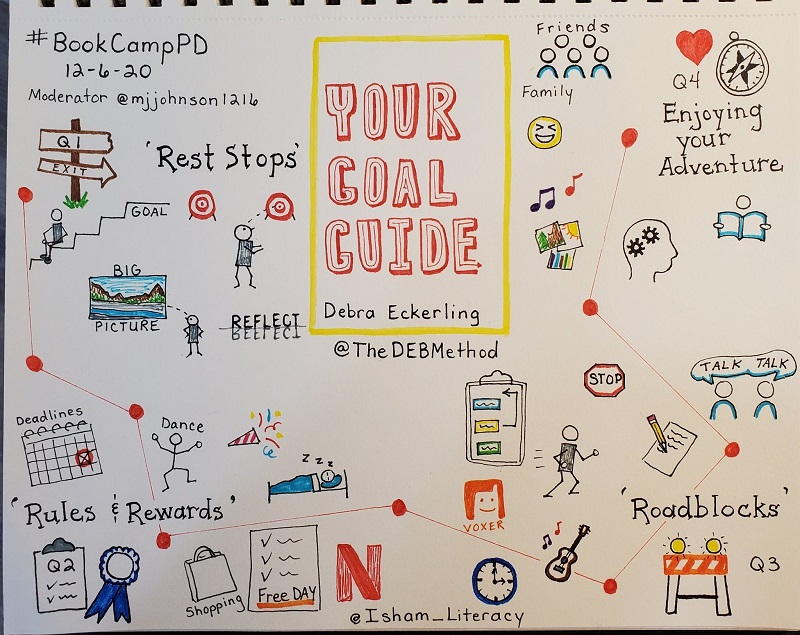 How to Make Your Goals More Than a Word with Debra Eckerling – Mix/Sizzle & Shake your Business Podcast with Sue-Ann Bubacz – Decmber 3, 2020
How To Set Your 2021 Goals And Start Now – Coaches go Social with Amy Airom – Decmber 1, 2020
Top Goal Setting Coach Deb Eckerling suggests Starting 2021 Now – Keith Spiro, Communicast – November 30, 2020
Goal-Setting Expert Debra Eckerling – Storey Time with Stephanie Storey – November 17, 2020
Setting, Planning and Achieving Your Goals with Deb Eckerling – The Savvy Scribe Podcast Podcast – November 17, 2020
Navigating Twitter: 10 Tips – Writers on the Move Guest Post – November 10, 2020
November Writing Challenges – Writers on the Move Guest Post – October 10, 2020
Your Goal Guide Debra Eckerling – Alaska Tracy Podcast – September 15, 2020
Time Swapping – Writers on the Move Guest Post – September 10, 2020
Conversations with Friends Worldwide with Christelle Lerryn – August 31, 2020
Achieving Your Goals with Debra Eckerling – Write Hot Podcast – August 27, 2020
How (and When) to Revisit Your Goals – Lattice – August 27, 2020
Born to Talk Radio Show with Marsha Wietecha – August 24, 2020
Tips for a Better Zoom Experience – Writers on the Move Guest Post – August 10, 2020
Live from my Living Room with Lisa Marie Latino – July 12, 2020

Sherry Belul's 100 Days of 1-Minute Coaching: Day 95: What About Distractions? – July 10, 2020
5 Steps for Creating Virtual Events– Writers on the Move Guest Post – July 10, 2020
Author Debra Eckerling: 5 Things You Should Do To Become a Thought Leader In Your Industry – Authority Magazine – July 7, 2020
The Ultimate Goal Guide by Shea Hulse – July 6, 2020
In Our Own Words: The Lyrical and Literary Podcast  – Interview with Alice Ashcroft – June 29, 2020
Coping with COVID-19: Resetting goals post-pandemic – Business in Vancouver – June 25, 2020
The 5 Rs of Refreshing Your Writing Goals – Writers on the Move Guest Post – June 10, 2020
LinkedIn Live with Viveka von Rosen – May 29, 2020
On the Page Podcast #665: A Roadmap for Achieving Your Goals – May 22, 2020
LinkedIn for Writers – Writers on the Move Guest Post – May 10, 2020
Goal Setting Simplified – Author Expert Wire Podcast – May 7, 2020
Good People, Cool Things Podcast #13: Building a Writing Community with Deb Eckerling – April 29, 2020
Online Writers Conference – Mindset and Pre-Writing Panel – April 18, 2020
5 Networking Goals You Can Pursue from Home – Writers on the Move Guest Post – April 10, 2020
Tips for Working from Home – from Steve Dotto, Dotto Tech, and friends – March 31, 2020
Meet Debra Eckerling, author of "Your Goal Guide" – Conversation with fellow Mango Publishing author  Sherry Richert Belul (Say it Now!) – March 27, 2020
10 Goals for Writers for 2020 – Women's National Book Association – San Francisco Chapter Guest Post – March 27, 2020
Your Goal Guide Author Debra Eckerling on Goal Setting and Getting What You Want – Fit Fifteen Podcast – March 23, 2020
Goal Setting & Disruption – Dotto Tech – March 14, 2020
Meet the Author: Your Goal Guide by Debra Eckerling – Camilla Downs, Meet the Authors – March 10, 2020
5 Things to Do When You Are Stuck Inside – Writers on the Move Guest Post – March 10, 2020
Achieving GoalTopia: A chat with Debra Eckerling, author of Your Goal Guide – Pamela Barroway – February 23, 2020
Rebooting Your Goals – Elizabeth Spann Craig's Blog – February 10, 2020
7 Gifts to Give Your Writer Self for Valentine's Day – Writers on the Move – February 10, 2020
5 Habits for the Best Year Yet – Goal Crazy – January 13, 2020
Interview with Debra Eckerling – Movies Matter – January 12, 2020
5 Places to Keep Goals … and 2 Places you Shouldn't – Writers on the Move – January 10, 2020
Be Yourself to Free Yourself with G. Brian Benson – Awake TV – January 1, 2020
13 Benefits You Can Get From Keeping A Daily Journal – Goal Crazy – December 17, 2019
What to Do If You Don't Know What Career Path to Choose? – Up Journey – December 12, 2019
25 Entrepreneurs Share Their #1 Goal for 2020 – CEO Blog Nation – December 10, 2019
Your Goal Guide with Debra Eckerling – Kickin' It With Daree podcast – November 19, 2019
9 Tips to Help You Become More Productive Right Now – PsychCentral.com– November 4, 2019
Why Is Public Speaking Important for Leaders and in Business? According to 24 Experts – Up Journey – November 4, 2019
Journaling for Problem Solving – Women's National Book Association – San Francisco Chapter– October 17, 2019
5 Ways to Pursue a Passion Project While Working a Full-time Job – Thrive Global – October 24, 2019
How to Participate in Twitter Chats – #TwitterSmarter podcast – September 20, 2019
How Do I Figure out What I Should Do for a Living, According to 20+ Experts – UpJourney – August 26, 2019
5 times when using paper and a pen is better than using an app – Fast Company – August 15, 2019
#PeriGirtsChat – Are You a Goal Digger? – @ThePeriGirls – June 8, 2019
The Power of Twitter Chats – #SocialROI chat with Madalyn Sklar – March 5, 2019
Goal Setting for 2019 – The Tim and Jim Show on Facebook Live – December 12, 2018
Chatting About Twitter Chats – Madalyn Sklar's #TwitterSmarter Twitter Chat and After-Chat Facebook Live – November 29, 2018
Goal Setting for Social Media Success – Madalyn Sklar's #TwitterSmarter Twitter Chat and After-Chat Facebook Live – June 21, 2018
Goal Setting, Goal Striving, And Goal Attainment – DIY Marketers pre-#BizapaloozaChat video – June 18, 2018
Goal Setting Using The D*E*B Method – Fit Fifteen Podcast – April 26, 2018
Goal-Setting Lunch N Learn – LAX Coastal Chamber of Commerce – January 19, 2018
How Can Strategic Goal Setting Impact Your Business And Career #BizHeroes Twitter Chat – January 9, 2018
Effective Goal Setting to Rock your Career and Business in 2018 on Facebook Live with Ai Addyson-Zhang, Classroom without Walls – November 29, 2017
The #TwitterSmarter Monthly Talk Show – October 26, 2017
Goal Setting for Bloggers #ContentChat Twitter Chat Recap – October 16, 2017
Mange Your Productivity and Time on Twitter #TwitterSmarter Twitter Chat Recap – September 14, 2017
Mobile Tools for Writing and Productivity #MobileChat Twitter Chat Recap – September 12, 2017
How to Launch Your Blog in 30 Days with Guided Goal Setting – Market Like A Nerd Podcast, August 28, 2017
Getting Unstuck Twitter Chat Recap – #MediaChat, August 10, 2017
5 On: Debra Eckerling – Jane Friedman's Blog, March 24, 2017
Interview with Carrie Dils – OfficeHours.FM Podcast, January 30, 2017
A Catalyst for Your Passion Projects: A Q&A with Debra Eckerling – The Startup Equation, April 14, 2016
Podcast Interview on Purple Pencil Adventures – She Wrote A Book Podcast with Lena Anani, January 2016
* * *
For more information, go to LinkedIn and read Testimonials. To book me for an interview or speaking engagement, contact info@thedebmethod.com or call 310.908.8980.
Check out Deb's Media One-Sheet and Speaker One-Sheet.
Deb did a great job building our blog and social media CRM channels. She is very energetic and passionate about creating quality consumer-centric content. In a short time she was able to recruit and build relationships with education subject matter experts and guest experts. She is up-to-date on all the social media channels and understands how to write engaging and compelling social content.
VP Product Marketing
Campus Explorer