36: On Goal-Setting, Theme Songs & Ally McBeal (feat. Debra Eckerling) Too Legitimat to Quit Podcast with Annie P Ruggles – August 16, 2021
Top Tips to Avoid Burnout – 10 Business Experts Advise by Jessica Dewell, Red Direction – July 29, 2021
Entrepreneur Success Story with Debra Eckerling of The DEB Method – Intuitive Turning Points with Dr Meg Haworth – July 16, 2021
What's Your Summer Fun Goal? – Writers on the Move Guest Post – July 10, 2021
Ask the Expert: Goal-Setting for Podcasters – AmplifYOU Podcast with Michele Elise Abraham – July 7, 2021
7 Ways Authors Can Support their Author Friends: Kindled Spirits – Writers on the Move Guest Post – June 10, 2021
Powerful Goal-Setting Method: A Deep Dive with Debra Eckerling Ask Avi Arya – June 9, 2021
The Walk-Talk Challenge podcast with Jennifer Navarrete – May 25, 2021
7 Ways to Be Healthier Right Now – Writers on the Move Guest Post – May 10, 2021
Meet the Authors: Conversations with Women Who Write – Ladies Take the Lead – May 8, 2021
Know What You Want & Set That Goal! TV Industry Wisdom Bits with Suzanne Gundersen – April 11, 2021
How to Choose Yourself – Writers on the Move Guest Post – April 10, 2021
Rhino Julie Interviews Goal-Setting Expert Debra Eckerling – April 8, 2021
Creating a Live Show to Broaden Your Reach – Streamyard Live Stream Impact Show with Julie Riley – March 15, 2021
5 Things that Stop Authors from Blogging … and the Easy Fixes – Writers on the Move Guest Post – March 10, 2021
Achieve Your Goals with Debra Eckerling – Focus & Freedom for Entrepreneurs Podcast with Val Low – March 9, 2021
I Must Be Doing Something Right – Dennis Amador Cherry's Blog – March 7, 2021
#FebruaryReset 10 Tips to Restart Your Year – Writers on the Move Guest Post – February 10, 2021
Book Nook: Books to Improve Your Emotional and Physical Health from Mango Publishing – Motherhood Moment – January 23, 2021
5 Items for #GoalTopia Inspiration – Writers on the Move Guest Post – January 10, 2021
The D*E*B Method For Setting Goals With Debra Eckerling – Build Live Give Podcast with Paul Higgins – January 5, 2021

Stress-Free Goal-Setting – The Example Show with Ryan Swanstrom on Amazon Live – December 30, 2020
LinkedIn Live with Beth Granger – December 29, 2020
Books Make Great Gifts – NitaSweeney.com – December 2020
Keith Spiro Communicast: Top Goal Setting Coach Deb Eckerling suggests Starting 2021 Now – Manchester InkLink- November 30, 2020
#BookCampPD Twitter Book Club, Featuring Your Goal Guide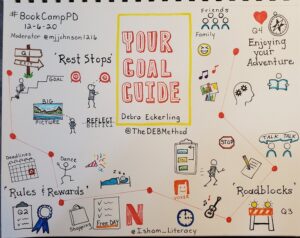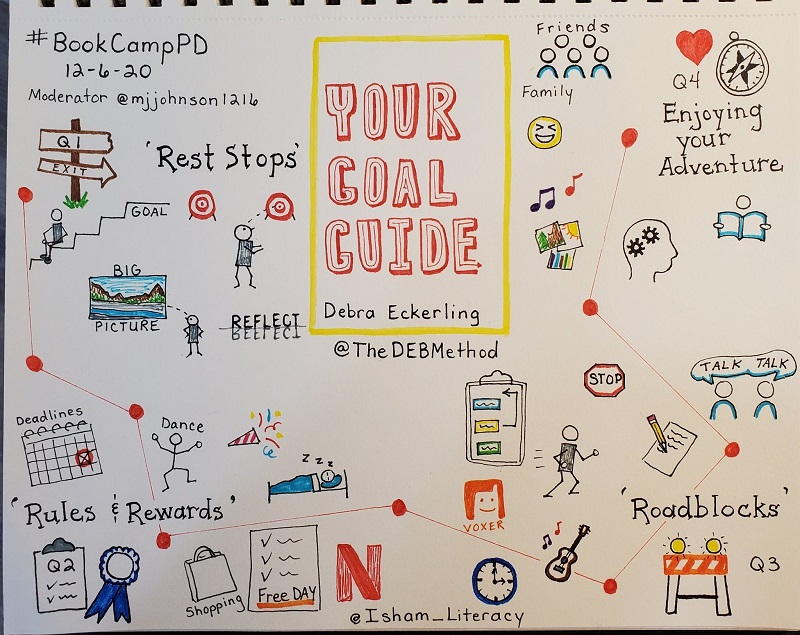 How to Make Your Goals More Than a Word with Debra Eckerling – Mix/Sizzle & Shake your Business Podcast with Sue-Ann Bubacz – Decmber 3, 2020
How To Set Your 2021 Goals And Start Now – Coaches go Social with Amy Airom – Decmber 1, 2020
Top Goal Setting Coach Deb Eckerling suggests Starting 2021 Now – Keith Spiro, Communicast – November 30, 2020
Goal-Setting Expert Debra Eckerling – Storey Time with Stephanie Storey – November 17, 2020
Setting, Planning and Achieving Your Goals with Deb Eckerling – The Savvy Scribe Podcast Podcast – November 17, 2020
Navigating Twitter: 10 Tips – Writers on the Move Guest Post – November 10, 2020
November Writing Challenges – Writers on the Move Guest Post – October 10, 2020
Your Goal Guide Debra Eckerling – Alaska Tracy Podcast – September 15, 2020
Time Swapping – Writers on the Move Guest Post – September 10, 2020
Conversations with Friends Worldwide with Christelle Lerryn – August 31, 2020
Achieving Your Goals with Debra Eckerling – Write Hot Podcast – August 27, 2020
How (and When) to Revisit Your Goals – Lattice – August 27, 2020
Born to Talk Radio Show with Marsha Wietecha – August 24, 2020
Tips for a Better Zoom Experience – Writers on the Move Guest Post – August 10, 2020
Live from my Living Room with Lisa Marie Latino – July 12, 2020

Sherry Belul's 100 Days of 1-Minute Coaching: Day 95: What About Distractions? – July 10, 2020
5 Steps for Creating Virtual Events– Writers on the Move Guest Post – July 10, 2020
Author Debra Eckerling: 5 Things You Should Do To Become a Thought Leader In Your Industry – Authority Magazine – July 7, 2020
The Ultimate Goal Guide by Shea Hulse – July 6, 2020
In Our Own Words: The Lyrical and Literary Podcast  – Interview with Alice Ashcroft – June 29, 2020
Coping with COVID-19: Resetting goals post-pandemic – Business in Vancouver – June 25, 2020
The 5 Rs of Refreshing Your Writing Goals – Writers on the Move Guest Post – June 10, 2020
LinkedIn Live with Viveka von Rosen – May 29, 2020
On the Page Podcast #665: A Roadmap for Achieving Your Goals – May 22, 2020
LinkedIn for Writers – Writers on the Move Guest Post – May 10, 2020
Goal Setting Simplified – Author Expert Wire Podcast – May 7, 2020
Good People, Cool Things Podcast #13: Building a Writing Community with Deb Eckerling – April 29, 2020
Online Writers Conference – Mindset and Pre-Writing Panel – April 18, 2020
5 Networking Goals You Can Pursue from Home – Writers on the Move Guest Post – April 10, 2020
Tips for Working from Home – from Steve Dotto, Dotto Tech, and friends – March 31, 2020
Meet Debra Eckerling, author of "Your Goal Guide" – Conversation with fellow Mango Publishing author  Sherry Richert Belul (Say it Now!) – March 27, 2020
10 Goals for Writers for 2020 – Women's National Book Association – San Francisco Chapter Guest Post – March 27, 2020
Your Goal Guide Author Debra Eckerling on Goal Setting and Getting What You Want – Fit Fifteen Podcast – March 23, 2020
Goal Setting & Disruption – Dotto Tech – March 14, 2020
Meet the Author: Your Goal Guide by Debra Eckerling – Camilla Downs, Meet the Authors – March 10, 2020
5 Things to Do When You Are Stuck Inside – Writers on the Move Guest Post – March 10, 2020
Achieving GoalTopia: A chat with Debra Eckerling, author of Your Goal Guide – Pamela Barroway – February 23, 2020
Rebooting Your Goals – Elizabeth Spann Craig's Blog – February 10, 2020
7 Gifts to Give Your Writer Self for Valentine's Day – Writers on the Move – February 10, 2020
5 Habits for the Best Year Yet – Goal Crazy – January 13, 2020
Interview with Debra Eckerling – Movies Matter – January 12, 2020
5 Places to Keep Goals … and 2 Places you Shouldn't – Writers on the Move – January 10, 2020
Be Yourself to Free Yourself with G. Brian Benson – Awake TV – January 1, 2020
13 Benefits You Can Get From Keeping A Daily Journal – Goal Crazy – December 17, 2019
What to Do If You Don't Know What Career Path to Choose? – Up Journey – December 12, 2019
25 Entrepreneurs Share Their #1 Goal for 2020 – CEO Blog Nation – December 10, 2019
Your Goal Guide with Debra Eckerling – Kickin' It With Daree podcast – November 19, 2019
9 Tips to Help You Become More Productive Right Now – PsychCentral.com– November 4, 2019
Why Is Public Speaking Important for Leaders and in Business? According to 24 Experts – Up Journey – November 4, 2019
Journaling for Problem Solving – Women's National Book Association – San Francisco Chapter– October 17, 2019
5 Ways to Pursue a Passion Project While Working a Full-time Job – Thrive Global – October 24, 2019
How to Participate in Twitter Chats – #TwitterSmarter podcast – September 20, 2019
How Do I Figure out What I Should Do for a Living, According to 20+ Experts – UpJourney – August 26, 2019
5 times when using paper and a pen is better than using an app – Fast Company – August 15, 2019
#PeriGirtsChat – Are You a Goal Digger? – @ThePeriGirls – June 8, 2019
The Power of Twitter Chats – #SocialROI chat with Madalyn Sklar – March 5, 2019
Goal Setting for 2019 – The Tim and Jim Show on Facebook Live – December 12, 2018
Chatting About Twitter Chats – Madalyn Sklar's #TwitterSmarter Twitter Chat and After-Chat Facebook Live – November 29, 2018
Goal Setting for Social Media Success – Madalyn Sklar's #TwitterSmarter Twitter Chat and After-Chat Facebook Live – June 21, 2018
Goal Setting, Goal Striving, And Goal Attainment – DIY Marketers pre-#BizapaloozaChat video – June 18, 2018
Goal Setting Using The D*E*B Method – Fit Fifteen Podcast – April 26, 2018
Goal-Setting Lunch N Learn – LAX Coastal Chamber of Commerce – January 19, 2018
How Can Strategic Goal Setting Impact Your Business And Career #BizHeroes Twitter Chat – January 9, 2018
Effective Goal Setting to Rock your Career and Business in 2018 on Facebook Live with Ai Addyson-Zhang, Classroom without Walls – November 29, 2017
The #TwitterSmarter Monthly Talk Show – October 26, 2017
Goal Setting for Bloggers #ContentChat Twitter Chat Recap – October 16, 2017
Mange Your Productivity and Time on Twitter #TwitterSmarter Twitter Chat Recap – September 14, 2017
Mobile Tools for Writing and Productivity #MobileChat Twitter Chat Recap – September 12, 2017
How to Launch Your Blog in 30 Days with Guided Goal Setting – Market Like A Nerd Podcast, August 28, 2017
Getting Unstuck Twitter Chat Recap – #MediaChat, August 10, 2017
5 On: Debra Eckerling – Jane Friedman's Blog, March 24, 2017
Interview with Carrie Dils – OfficeHours.FM Podcast, January 30, 2017
A Catalyst for Your Passion Projects: A Q&A with Debra Eckerling – The Startup Equation, April 14, 2016
Podcast Interview on Purple Pencil Adventures – She Wrote A Book Podcast with Lena Anani, January 2016
* * *
For more information, go to LinkedIn and read Testimonials. To book me for an interview or speaking engagement, contact info@thedebmethod.com or call 310.908.8980.
Check out Deb's Media One-Sheet and Speaker One-Sheet.
Thank you for the wonderful session on planning and reaching my goals. I can't believe in the short half hour of conversing, I was able to walk away with an executable plan of action and timeline to reach an immediate pressing goal. In fact it was so simple, I thought I'd missed something.

I'll end this year and begin the next one with a definite blueprint for completing tasks and getting things done–thanks to Debra. I'm stoked and inspired after our conversation, and will definitely sign up for future sessions. I'm about to pole vault over every single demon of opposition that has stymied my writing goals.