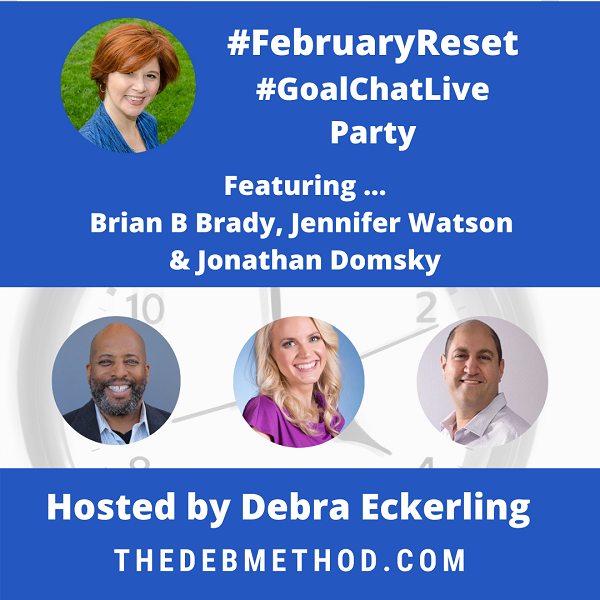 Who is ready for a #FebruaryReset? Goals are not just for the beginning of the year, they are an ongoing process! For the February 1st #GoalChatLive party, I invited friends to talk about hitting the reset button!
My guests for the #FebruaryReset #GoalChatLive:
I asked the group about their personal reset stories, their goals, and what they do when they are not working. There was a lot of talk about work-life balance, finding your why … and your passion, and, of course, we talked about food  Here's the link to my post on The Instant Pot for Productivity, btw.
Watch the #FebruaryReset#GoalChatLive Party
Here are bonus goals from our #FebruaryReset #GoalChatLive Party Guests
Jonathan: Think about what in your life have you learned to accept. Are you ready to change it?
Jennifer: Answer this question: What would you be doing if you could do anything?
Brian: Put your ideas out into the universe.
And their #FebruaryReset Final Thoughts
What's your #FebruaryReset tip? Please let us know in the comments.
Next Week
On the next #GoalChat we will be talking about Reinventing Yourself. Join the Twitter chat on Sunday, February 7th, at 7pm PT on Twitter. Then, on Monday, February 8, at 4pm PT, podcaster and fellow Mango author Polly Campbell, You Recharged, will join me on #GoalChatLive.
* * *
For daily #FebruaryReset goals and tips, follow @TheDEBMethod on Twitter, Facebook, and Instagram. And connect on LinkedIn.
And get your copy of my latest book, Your Goal Guide: A Roadmap for Setting, Planning and Achieving Your Goals. Then join the Your Goal Guide Facebook group.