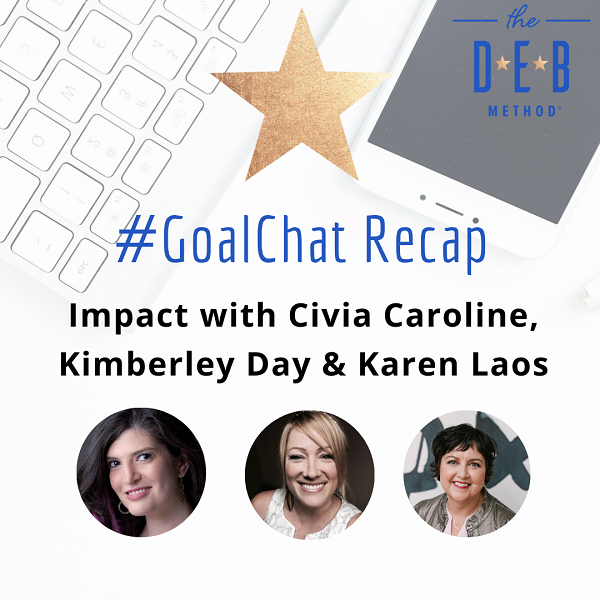 The October Theme is Impact. We kicked off the month with an impactful conversation on the topic with guests Music Industry Impact Coach Civia Caroline, Marketing Specialist Kimberley Day (Write & Grow Rich), and Communications and Confidence Champion Karen Laos.
At the beginning of every month, I bring together friends from different areas of my life to chat, check-in, and offer inspiration. This month's guests agreed: Impact starts with you! It's all about reaching and helping others, starting a ripple effect, and inspiring people to think and/or act differently!
Getting Starting with Making an Impact
Civia: Know your values, know where you stand, know your voice! Tell a friend something that feels a little outside your comfort zone.
Kim: Start from within. And take massive, imperfect action! Ready, fire, aim!
Karen: Figure out what you want and why that is. Give yourself permission to think big! Write your own eulogy. Start with the legacy you want to leave.
Watch the #GoalChatLive on Impact
Goals 
Kim's Goal: Automate and rebrand her business
Goal from Kim: Take some action
Civia's Goal: Start an IG live series with artists who are making an impact
Goal from Civia: Start with a daily practice, like journaling
Karen's Goal: Host a TEDx event in San Francisco
Goal from Karen: Ask 5 people you know and trust to tell you 3 to 5 attributes/strengths about you
Final Thoughts on Impact
Kim: It is your time!
Civia: The world is waiting to hear from you!
Karen: All that you are seeking is also seeking you!
Links
What's your best tip for making an impact? Please share in the comments.
Next Week
On the next #GoalChat we will be talking about Leadership. Join the Twitter chat on Sunday, October 3, at 7pm PT on Twitter. Then, on Monday, October 4, at 4pm PT, Jessica Dewell, Tom G Reid, and Jennifer Tsang will join me for #GoalChatLive.
* * *
For more inspiration, motivation, and tips, follow @TheDEBMethod on Twitter, Facebook, and Instagram. And connect on LinkedIn.
And get your copy of my latest book, Your Goal Guide: A Roadmap for Setting, Planning and Achieving Your Goals. Then join the Your Goal Guide Facebook group.