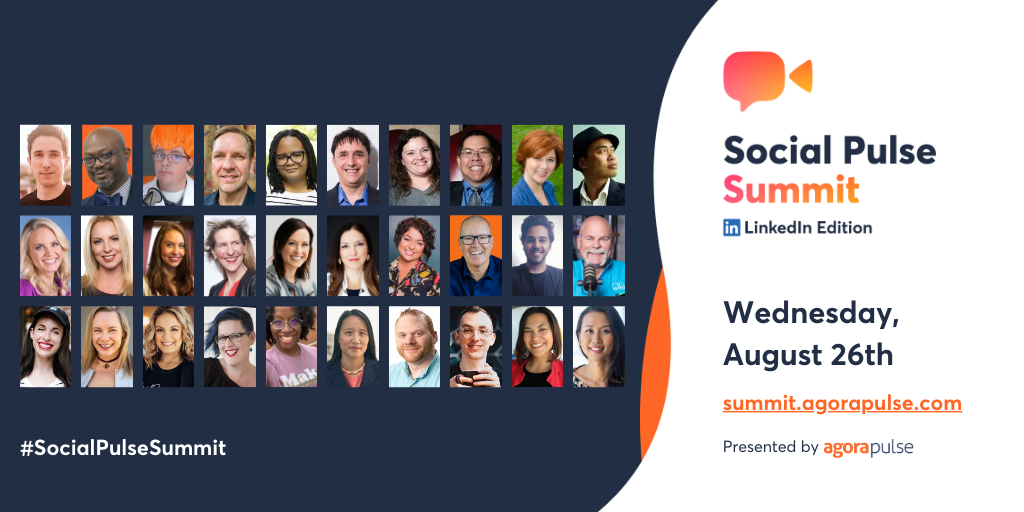 I'm thrilled to be speaking at the Agorapulse Social Pulse Summit: LinkedIn Edition on August 26. Designed from the ground up to give you the equivalent of an intense, in-person conference, the #SocialPulseSummit is 100% focused on helping you to improve your brand and business using LinkedIn.
There will be two live keynotes and 27 breakouts, including my session on Setting #LinkedInGoals at at 8:45am PT. I am also hosting a Table Talk in the Social Pulse Community at 9:30am PT.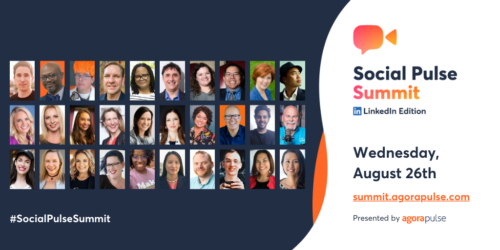 Here's the full list of speakers and sessions for the #SocialPulseSummit:
The Science of Market Timing: How to Develop the Right Idea, at the Right Time with Allen Gannett

LinkedIn Marketing Myths Busted with SCIENCE! with Scott Ayres

Leveraging LinkedIn to Grow A World Class Podcast with Vernon Ross

How to Be Anti-Racist on LinkedIn (and in Life): A Primer with Elise Connors

Power Up Your LinkedIn Job Hunting Efforts with Katie Robbert and Christopher Penn

How to Convert Your Employees into Becoming LinkedIn Influencers with Neal Schaffer

How to Dominate Your LinkedIn Strategy with Jennifer Watson

How to Use LinkedIn to Plan and Promote Your Online Events with Anfernee Chansamooth

Setting LinkedIn Goals with Debra Eckerling

Fearless Creativity: Building a safe place for "unsafe" ideas! with Kathy Klotz-Guest

Building The Perfect LinkedIn Live Studio with StreamYard with Dana Bentz

How to Consistently Generate B2B Leads From LinkedIn with Melonie Dodaro

Getting past the Gatekeeper on LinkedIn with Jessika Phillips

Top 3 LinkedIn Strategies to Attract Clients in 2020 with Judi Fox

How to Create Essential Graphics for LinkedIn to Get More Visibility for Your Business or Personal Brand with Annette McDonald

Zero to Rockstar on LinkedIn Starting Right Now with Roger Wakefield

How To Create Engaging Video For LinkedIn with Abhilash Hande

Why Are We Selling Like It's 1999? with Paul Higgins

How to Serve a Niche Community on LinkedIn with Flossie Hall

7 Steps to Pivoting your Branding, Outreach and Engagement on LinkedIn with Viveka von Rosen

The Power of LinkedIn Video During Uncertain Times with Jaime Cohen

How Nonprofits, Mission-Driven Companies and Individuals Can Make an Impact Through the Network with Janice Dru

Communicating A Kinder World with Louisa Garrett

Purposeful Networking: How to Build and Boost Your Business On and Offline with Tisha Marie Pelletier

The 5 Step Blueprint to Creating and Promoting a Successful Online Course Business with Sean Scott

LinkedIn Ads: The B2B Marketer's Secret Weapon with AJ Wilcox

Unknown to Unforgettable: The Art and Science to Being Irresistible on Camera with  Stephanie Liu
Why LinkedIn
LinkedIn is the perfect platform for showcasing your expertise, as well as building relationships with new friends and connecting with old ones. Join us!
As everyone needs to pivot, re-strategize, and take a new approach to their business, the Social Pulse Summit is the perfect opportunity to elevate your LinkedIn skills. And it's FREE. Learn more about the Summit and register.