The D*E*B Method is my system for goal-setting, project management, and productivity.
It's the easiest way to figure out what you want and how to get it.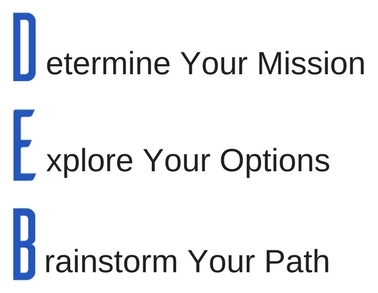 Whether you want to enhance your current business, launch a side project, or start a new career, The D*E*B Method will help you define, plan, and achieve your goals.
CONTACT ME TO GET STARTED!
When I set my sights on being a serious writer with attention-deficit, I had trouble focusing and felt overwhelmed. I found Deb's Facebook page, Write On! Online and began following her posts and podcasts. Every 

Sunday

 she'd tell us to post our weekly goals, then at the end of the week, did we meet them? If not, why? Deb has a positive, enthusiastic, infectious energy that has made a difference for me as a new writer. By following her posts and listening to her podcasts, I've developed the self-discipline to stay on task, complete them, and remain focused. She helped me break down the novel writing process into bite-sized pieces that moved me forward each day, no matter how small the task. I'm now revising two novels that will be published within the year. If you want to be a published author, Debra Eckerling will get you there!
Writer
Eagle River, Alaska
I offer: