The D*E*B Method is my system for goal-setting, project management, and productivity.
It's the easiest way to figure out what you want and how to get it.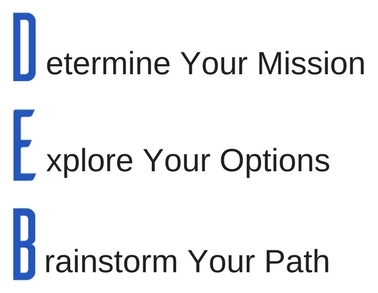 Whether you want to enhance your current business, launch a side project, or start a new career, The D*E*B Method will help you define, plan, and achieve your goals.
CONTACT ME TO GET STARTED!
Debra helped each member of our group kick of the New Year right with her goal-setting workshop. She led us through thoughtfully designed worksheets that helped us think about where we want to be and how to get there. She also had great answers to our questions on how to be more productive and overcome obstacles to our goals. Her workshop served to bring together the participants as we learned about each others' goals and dreams, a great and unexpected benefit. I highly recommend Debra's services as a coach and workshop leader.
I offer: