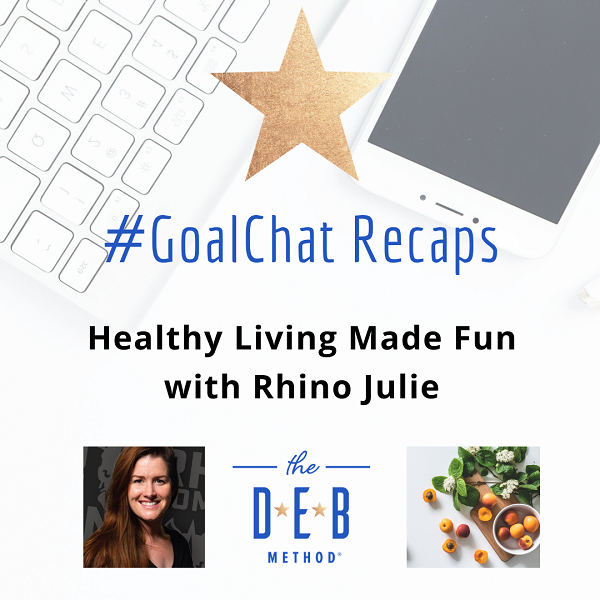 On this week's #GoalChatLive gym owner, health fanatic, and entrepreneur Rhino Julie joined me to talk about Healthy Living Made Fun! The May theme is Reconnecting, so this week we talked about reestablishing – and embracing – your health goals.
Rhino Julie talked about her love of food, her own health goals and challenges, and her backstory on how – and why – she became a gym owner.
The basic theme: To have a healthy lifestyle, decide what that means to you and find comfortable ways to make it happen.
You want to eat better: Keep healthy food in the house. And also plan special treats for yourself
Need to work out more: The ideal is 120 minutes a week, but even if you have only 30 seconds to work out, find ways to exercise during those short sprints of time
The biggest mistake people make is saying, "I will be happy if… I will be happy when …" Celebrate everything … the process … rather than stress out chasing results!
When I asked how she ranked the importance of eating well, working out, and self-care, Rhino Julie said sleep is most important. When you sleep well, you are able to be more active and also eat better.
Watch #GoalChatLive on Healthy Living with Rhino Julie
Check out the full GoalChatLive conversation on Health Goals in the Twitter Moments Recap.
Bonus Goals: Healthy Living
Decide what you want to accomplish, healthwise – look at the big picture. Then start by figuring out what one thing you can do every day to get there.
Extra Bonus Goal: Take Rhino Julie's 5-day Challenge
Final Tip from Rhino Julie
Stop sabotaging yourself. And remember, it's never too late to start!
Links
Rhino Julie's Interview with Me
What is your best healthy-living tip? Please share in the comments.
* * *
Next Week
On the next #GoalChat we will be talking about Connecting with Your Peeps. Join the Twitter chat on Sunday, May 16, at 7pm PT on Twitter. Then, on Monday, May 17, at 4pm PT, Jenna Busch and Anastasia Washington will join me on #GoalChatLive.
* * *
For more inspiration, motivation, and tips, follow @TheDEBMethod on Twitter, Facebook, and Instagram. And connect on LinkedIn.
And get your copy of my latest book, Your Goal Guide: A Roadmap for Setting, Planning and Achieving Your Goals. Then join the Your Goal Guide Facebook group.