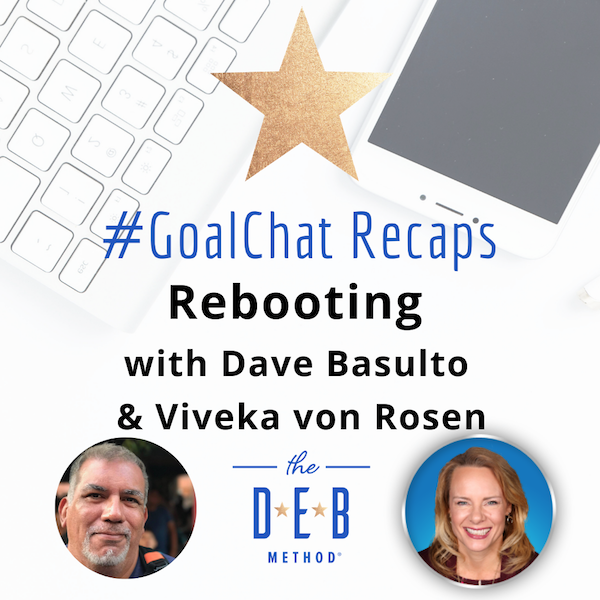 On #GoalChatLive we had a double dose of awesome for our conversation about Rebooting. I was joined by Dave Basulto, iOgrapher, and Viveka von Rosen, Vengreso.
Rebooting has only gained in popularity – and necessity – this year.  One of the reasons I wrote Your Goal Guide was to help people introduce and/or embrace change in their lives. Our #GoalChat community had plenty to say on the topic of rebooting on Sunday night, as did our Monday #GoalChatLive guests.
Dave and Viv both experienced multiple reboots, which they recounted during our conversation. They also shared examples and advice for people who want or need to reboot their career, start a passion project, or both. With everyone still living in off-kilter times – and with a brand new year on the horizon – there's no better time than now to figure out what you want and make a plan.
Some highlights of the advice they shared:
Fail forward. Keep trying new things and improve as you go along
Invent in yourself
Invest in a positive community
Do more of what you are passionate about
Opportunity is there, Find it!
Watch #GoalChatLive on Mindset
Read the Twitter Moments Recap.
Bonus Goals: Rebooting
Spend quality time exploring your passion and go from there!
Links
Watch #GoalChatLive on LinkedIn
* * *
How do you define rebooting? Why is rebooting important? Please share in the comments or on the video.
* * *
Next Week
On next week's #GoalChat we will be talking about Career Change. Join the Twitter chat on Sunday, November 22th, at 7pm PT on Twitter. Then, on Monday, November 23, at 4pm PT, I will be joined by #GoalChat regular and career counselor Markell Morris.