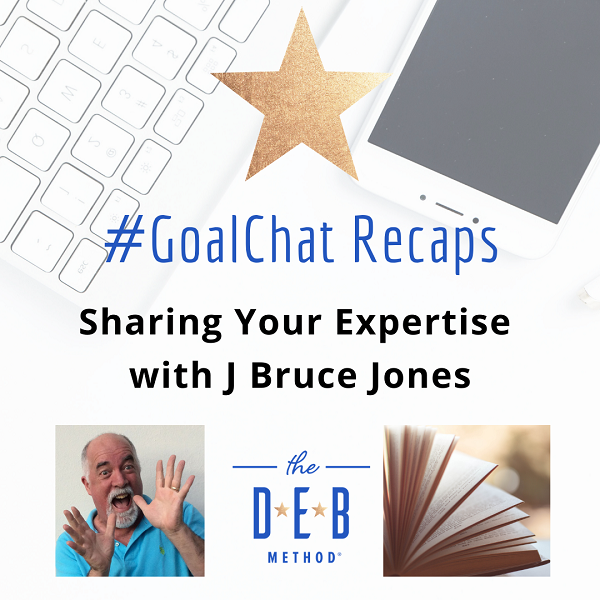 Our #FebruaryReset topics continue with Sharing Your Expertise. J. Bruce Jones, author/creator of more than 50 books including his latest, How to Sell Your Book, was the perfect #GoalChatLive guest for this topic.
Bruce, whose expertise is implementation, shared the progression of his career, examples of books he produced, and tons of advice on self and book-promotion. One of these tips – for those who have a physical book and appear on videos – pick up your book and share it on screen. It's a great way to get people to associate your face with your book!
Some other tips on sharing your expertise:
Be proud and be loud. If you are an expert, embrace it.
Perfection freezes progress. Aka done is better than perfect.
You have to have the guts to put yourself out there. Plenty of people and companies are in your market. Be the one who shares the information.
Bruce shared a super-easy way to formulate ideas regarding your expertise. Here's the exercise:
Write down the 10 main questions people ask you about your expertise.
Write one sentence for each.
Write a paragraph for each.
Then write two to three paragraphs for each.
You now have an outline for creating a pdf freebie ebook, traditional book, book proposal, promo content, audios, videos, or really anything. Note: If you are making this into a pdf, add an intro, as well as a bio at the end with links.
This horizontal way of formulating ideas is easy and effective.
Watch #GoalChatLive on Sharing Your Expertise
Check out Sunday night's #GoalChatLive conversation on Sharing Your Expertise in the Twitter Moments Recap.
Bonus Goals: Sharing Your Expertise
Write the 10-question outline
Give yourself the freedom to explore new ideas!
Links
* * *
What is your best tip for sharing your expertise? Please share your thoughts in the comments.
* * *
Next Week
On next week's #GoalChat we will be talking about Balance. Join the Twitter chat on Sunday, February 21, at 7pm PT on Twitter. Then, on Monday, February 22, at 4pm PT, Angela Johnson is my guest on #GoalChatLive.