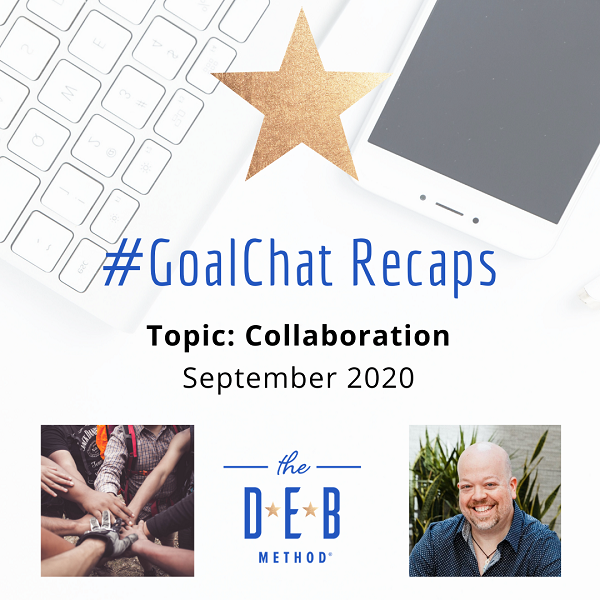 This week on #GoalChatLive Mike Allton joined me to talk about collaboration. Mike is the brand evangelist for Agorapulse and co-author of the Ultimate Guide to Social Media Marketing from Entrepreneur Press.With so many people staying safer or sheltered at home, Mike and I discussed, collaboration is not just a good idea. For many, it's a must. When you work on projects with others, you share ideas, strengths, and audiences, among other benefits.
On #GoalChatLive Mike shared his path to collaboration on his new book with co-authors Eric Butow, Jenn Herman, Stephanie Liu, and Amanda Robinson.  Mike also talked about how most of his projects for Agorapulse are collaborations. For instance, the Social Pulse Summit, which I spoke on last month on LinkedIn Goals, was all about collaborating with social media powerhouses, as well as new voices. Btw, you can still register and watch the LinkedIn sessions for the next two weeks.
On both Monday's #GoalChatLive and during Sunday night's #GoalChat conversation we talked about best practices for collaboration, when and why to collaborate – and when to not, tips for setting your collaboration up for success, and more.
Watch #GoalChatLive on Collaboration
Read the Twitter Moments Recap.
Bonus Goal: Collaboration
Make a list of 20 people you would like to collaborate with in Q4 2020. Be sure to include 5 easy gets and 5 dream collaborators. Then, start your outreach and see what happens.
Final Thoughts
The key to good collaboration is communication. Make a plan, divide the responsibilities, and have everything in writing. If there's an issue, reach out with the best intentions and go from there.
* * *
Do you collaborate on a regular basis? Or is collaboration something you want to try? What are your best practices for collaboration? Please share thoughts on collaboration in the comments or on the video.
* * *
Next Week
On next week's #GoalChat we will be talking about Pitching to Podcasts. Join the Twitter chat on Sunday, September 20, at 7pm PT on Twitter. Then, on Monday, September 21, at 4pm PT, author and podcaster Laura Michelle Powers will join me on Facebook Live.