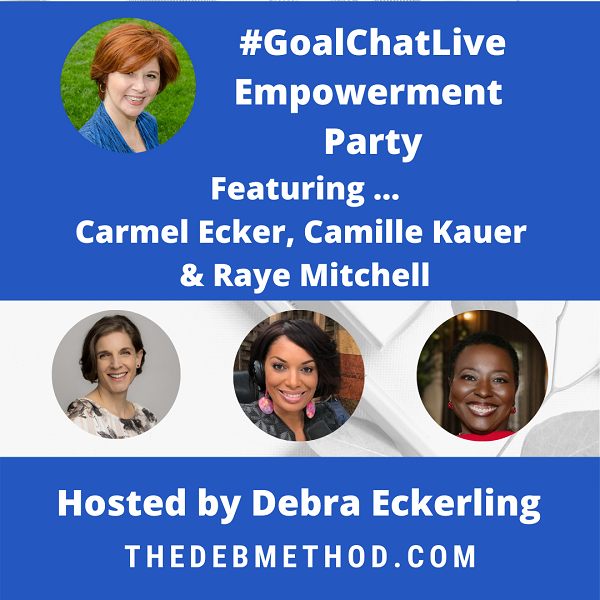 This week's #GoalChatLive Empowerment party was brought to you by the letter "L" for Laughter. When I gathered this group of amazing women, who knew we would laugh our way through a conversation about empowerment! I guess life is all about the approach. Surround yourself with good people, give support, find the support you need, embrace and claim the life you want … and laugh!
My guests for the #Empowerment Party #GoalChatLive:
Each month, I bring together friends from different areas of my life to chat, talk about goals, and offer inspiration to others. The difference between this and some of my other GoalChatLives? The women today are all friends I met online within the last year … and in most cases was our first small-group conversation.
Watch the March #Empowerment #GoalChatLive Party
Here are our #Empowerment Party Guests' Goals
Camille's Goal: Use the treadmill without injury. Stay in my lane!
Carmel: Bring my message to more people. Launch group coaching in April!
Raye: Make a movie. Successful launch of the new podcast. Support community – be part of the recovery. Start production of the docuseries. Get the novel out the door!
Their #Empowerment Final Thoughts
Carmel: Yes, dream. But know what you need to say No to!
Camille: Find humor in life whenever – and wherever – you can!
Raye: Plan your escape, your reset, your next move with a brilliant level up!
And your Bonus Goals
Claim what you love. Do more of it! Monetize it!
Dream Bigger!
Links
What's your #Empowerment tip? Please let us know in the comments.
Next Week
On the next #GoalChat we will be talking about Courage. Join the Twitter chat on Sunday, March 7th, at 7pm PT on Twitter. Then, on Monday, March 8, at 4pm PT, fellow Mango author Shelly Rachanow, When Women Run the World, Sh*t Gets Done, will join me on #GoalChatLive for InternationalWomensDay.
* * *
For more inspiration, motivation, and tips, follow @TheDEBMethod on Twitter, Facebook, and Instagram. And connect on LinkedIn.
And get your copy of my latest book, Your Goal Guide: A Roadmap for Setting, Planning and Achieving Your Goals. Then join the Your Goal Guide Facebook group.