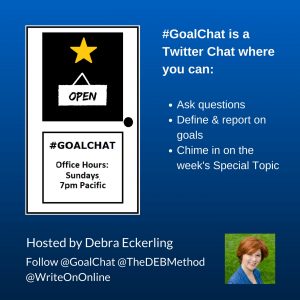 Join us for my #GoalChat Twitter Chat on Sundays at 7pm PT/10pm ET. Share wins, tweet your goals, and chime in on each week's special topic.
A Twitter chat is a conversation on Twitter, noted by a specific hashtag and revolving around a certain topic. In the case of #GoalChat, I will be holding office hours each week to check on your goals, facilitate a special topic, and answer your questions on goal-setting and productivity.
To participate, follow the hashtag #GoalChat on Twitter or use a tool, such as TweetDeck or Hootsuite. You can also tweet your questions, using the #GoalChat hashtag, throughout the week. Follow @GoalChat, @TheDEBMethod, and @WriteOnOnline on Twitter.
Tweet suggestions for topics to @GoalChat.
#GoalChat Live
Starting on April 13, 2020, join me every Monday at 4pm PT on the Mango Publishing Facebook Page for #GoalChat Live. Share your goals and wins, stop by for support and encouragement, and submit any goal-setting challenges and questions!
Read the Recaps:
2019 & 2020
2018
12/30/18 – January and 2019 Goals
12/16/18 – 1st Annual #GoalChat Virtual Holiday Party & Potluck
5/20/18 – Business Development
4/15/18 – Setting Realistic Goals
2/18/18 – Dealing with Rejection
2/11/18 – Focusing & Avoiding Distractions
1/21/18 – Mission Statements & Mottos