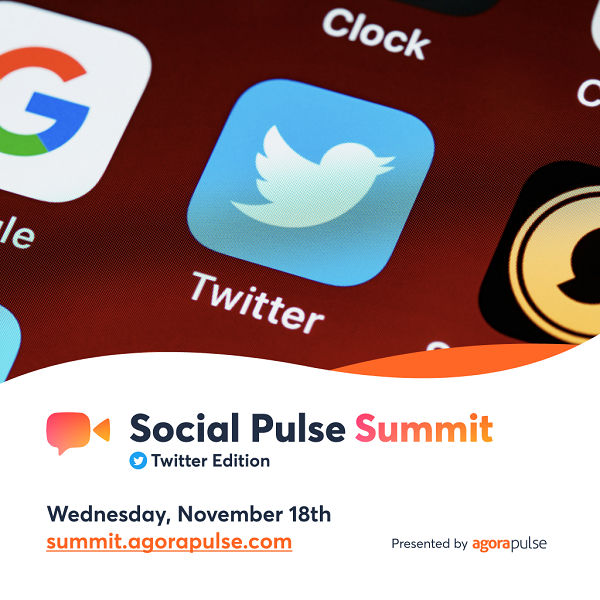 So excited to speak at the Agorapulse Social Pulse Summit: Twitter Edition on November 18. The Twitter Summit combines the latest technology and features for an event experience that is both remarkable and valuable. And the best part is, it's all free!
There will be two live keynotes and 30 breakouts, including my session on Twitter Chat Goals at 10:15am PT, as well as networking opportunities, Twitter vendor booths, and more.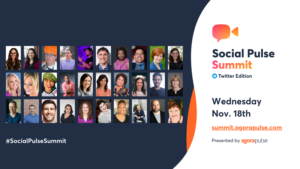 Here's the full list of speakers and sessions for the Twitter Edition of the #SocialPulseSummit:
A Great Digital Presence is No Longer Optional with Chris Brogan

How to Unleash Twitter's Marketing Power: 5 Insider Tips with Neal Schaffer

Developing a Twitter Smarketing Plan  with Jessika Phillips

7 Twitter Myths Busted with SCIENCE! with Scott Ayers

Next-Level Twitter Marketing Analytics with Christopher Penn

How to Harness Live Tweeting to Generate FOMO for Your Business with May King Tsang

Twitter Is The Bridge to L. E. A. D. S.  with Troy Sandidge

The New Plan A: How To Regain Clarity, Get Proactive, and Do Exceptional Work Again with Jay Acunzo

5 Ways to Use the Power of Twitter to Maximize Your Growth Potential with Jennifer Watson

How to Build Relationships on Twitter (that go beyond Twitter)! with Christine Gritmon

How To Be Human On Twitter To Build Real Life Relationships And Community with Heidi Cohen

The Future of Marketing is Human: Creating Connection in a World Cluttered with Content with Julia Jornsay-Silverberg

Twitter Chat Goals: Setting Your Twitter Chat Up for Success with Debra Eckerling

How to Ignite Your Brand & Content Marketing ROI With Twitter and OPC with Pam Moore

How to Build Vibrant Communities on Twitter with Nathalie Gregg

How to Generate Leads on Twitter with Ian Cleary

How to Incorporate Live Shows Into Your Sales Funnel with Anya Razina

On-Camera Performance: Going From Good To Amazing with David H. Lawrence XVII

Rehearse for Real Time: How to Prepare for Moments that Make Twitter Great with Lauren Teague

Twitter: Fostering Inclusion and Community for Marketers Big and Small with Kushlani De Silva

How To Magnify Your Small Business Online with Tricia Chambers

How to Bring Engagement to life with Animated Visuals & GIFs with Donna Moritz

How To Build A Vibrant Community On Twitter with Madalyn Sklar

How To Drive Traffic From Twitter with Ann Smarty

How to 10X Your Results on Twitter in a Matter of Weeks with Alvern Bullard

How To Use Twitter to Drive Traffic To Your Live Or Recorded Video with Jim Fuhs

How To Quickly Repurpose Each Live Stream, Video, and Podcast into Engaging Twitter Videos with Hani Mourra

Capture the Feed With Twitter Video with Dan Willis

How To Live Stream To Twitter Using Ecamm Live with Katie Fawkes

The Power of Your Social Tech Stacks with Sarah Evans

How To Build A Brand Ambassador Program Using Twitter with Mike Allton

Personal Branding: Building An Unshakeable Brand in 2020 with Goldie Chan
Why Twitter
Twitter has seen a dramatic resurgence recently. Now's the time for you to #LevelUp your personal and professional game on the platform. Learn more about the Summit and register.