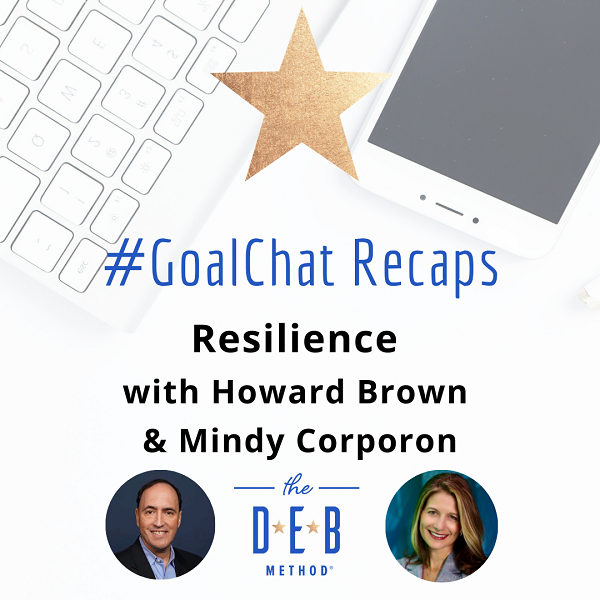 Sharing perspective – as well as tips for developing resilience – were this week's #GoalChatLive guests Howard Brown and Mindy Corporon. A serial tech entrepreneur, Howard is a two-time cancer survivor, advocate, and author (Shining Brightly). Mindy is an entrepreneur, thought-leader, and author of Healing a Shattered Soul
– My Faithful Journey of Courageous Kindness after the Trauma and Grief of Domestic Terrorism.
Both were extremely candid in discussing what resilience means to them, and how they found the strength to move forward when faced with extreme challenges and trauma.
"In April 2020, everyone learned what Howard and I already knew," Mindy said.
An important point, Howard added, "It's okay not to be okay."
Becoming resilient is a process. It's a muscle you develop over time. Take care of yourself. Look for – and accept – support. And find reasons to be grateful.
Watch Resilience on #GoalChatLive
Also, check out the full GoalChatLive conversation on the topic in the Twitter Moments Recap.
Tips for Building Resilience 
Mindy: To be more aware, journal. Stay away from toxic people. Find a sleep ritual.
Howard: Recognize where you are at; find your purpose. Schedule non-digital activities. Be active.
Your Goals for Building Resilience
Mindy: Practice courageous kindness. If you know someone who is hurting or struggling, take an action
Howard: Shine brightly to make the world a better place!
Links
What's your tip for building resilience? Please share it in the comments.
* * *
On the next #GoalChat we will be talking about SelfSabotage. Join the Twitter chat on Sunday, July 25, at 7pm PT on Twitter. Then, on Monday, July 26, at 4pm PT, Tara Reinbolt and MJ Fievre will join me on #GoalChatLive.
* * *
For more inspiration, motivation, and tips, follow @TheDEBMethod on Twitter, Facebook, and Instagram. And connect on LinkedIn.