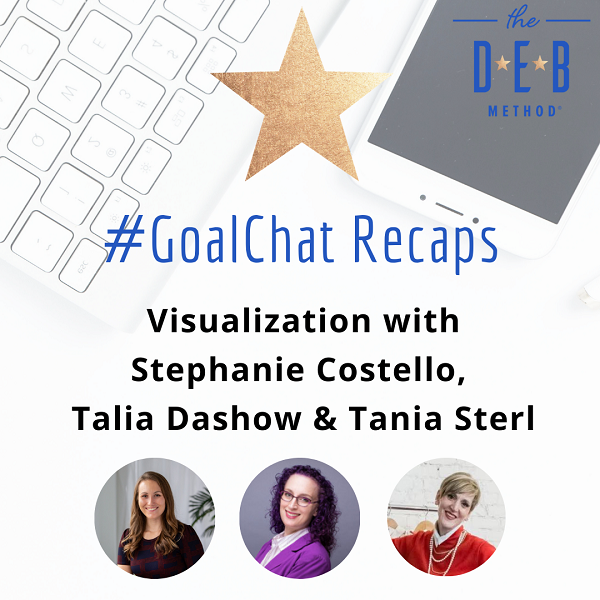 On this week's #GoalChatLive, I discuss Visualization with Stephanie Costello, Talia Dashow, and Tania Sterl. To get what you want, you need to know what you want. When you can see what that is, it's even more powerful. We discuss using visuals; visualization for communication, creativity, and manifestation; and more!
About my guests:
Stephanie Costello is a relationship advisor and founder of Safety In Freedom
Talia Dashow is a speaker and coach with a focus on creativity
Tania Sterl, Sterl on Style is a New York City-based fashion expert and style strategist
Our experts approach visualization from the lens of style (Tania), communication (Stephanie), and creativity (Talia). Visualization is important, because, "You have to see it to be it!"
Visualization Techniques & Tools
Talia: Creativity games. Practicing divergent thinking
Tania: Visualization for creative direction and future style. Pinterest Boards
Stephanie: Visualization for relationship creative direction. Head trash purge
Watch the #GoalChatLive on Visualization
Also, check out the full GoalChatLive conversation on Visualization in the Twitter Moments Recap.
Visualization Tips  
Tania: Read a great book, Get a great coach
Stephanie: Know yourself and your learning style
Talia: Pay attention to what lights you up
Goals from Our Guests
Talia: Take a walk or do something else, where you can let your mind wander
Stephanie: Throw out your head trash. Paint the picture with words of what you want
Tania: Dare yourself to dream just a little bigger. Reflect on your wins too!
Final Thought
Stephanie: Create your life by your own design. There is Safety in Freedom
Talia: You are perfect just the way you are. The world needs us to show up and shine
Tania: Be a more fully expressed version of yourself
Links
What was your best visualization tip? Please share in the comments.
Next Week
On the next #GoalChat we will be talking about Missions & Mottos. Join the Twitter chat on Sunday, December 12, at 7pm PT on Twitter. Then, on Monday, December 13 at 4pm PT, Jannette Anderson and MK Mueller join me on #GoalChatLive.
* * *
For more inspiration, motivation, and tips, follow @TheDEBMethod on Twitter, Facebook, and Instagram. And connect on LinkedIn.
And get your copy of my latest book, Your Goal Guide: A Roadmap for Setting, Planning and Achieving Your Goals. Then join the Your Goal Guide Facebook group.