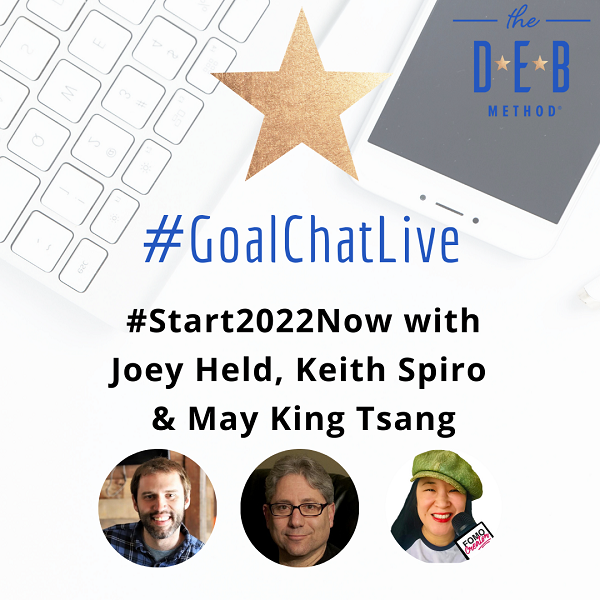 Ready to #Start2022Now? On this week's #GoalChatLive, Joey Held, Keith Spiro, and May King Tsang joined me to celebrate #DEBcember! It's #Goal season! But there's no need to wait until January for your fresh start. Add a month to your calendar, get a jump on 2022, and begin the new year in DEBcember!
About my guests:
Joey Held is a Writer and Podcaster. Joey's mission is to tell stories and help others tell their stories.
Keith Spiro is a Business Strategist and Community Builder. Keith's mission  is to listen to other people's stories
May King Tsang is the Original FOMO Creator. May King's mission is to help people get their message about by creating that burst of excitement
Joey, Keith, and May King discussed their wins from 2021 and their 2022 goals, as well as what surprised them most about last year.  Also, they each shared one thing about themselves that few people know … and is indicative of who they are. Note: Each story had a connection to karaoke and music!
Watch the #Start2022Now #GoalChatLive 
Also, check out the full GoalChatLive conversation on December Goals in the Twitter Moments Recap.
Our Guests' 2022 Goals 
Joey: Expand writing content. Work on other books
Keith: Transform
May King: Reflect. Also, educate more and empower
Goals from Our Guests
May King: Invest in yourself
Keith: Make direct connections between yourself and reach out to others! Reach out to a new person each week and one familiar person a day
Joey: Allow yourself to have fun
Final Tip to #Start2022Now
Joey: Don't multitask … try Brain.fm
Keith: Practice cheerful indifference
May King: Laugh at life, laugh at yourself, and laugh with others
Links
What was your biggest win of 2021? What is your big goal for 2022?
Next Week
On the next #GoalChat we will be talking about Visualization. Join the Twitter chat on Sunday, December 5, at 7pm PT on Twitter. Then, on Monday, December 6 at 4pm PT, Talia Dashow and Tania Sterl join me on #GoalChatLive.
* * *
For more inspiration, motivation, and tips, follow @TheDEBMethod on Twitter, Facebook, and Instagram. And connect on LinkedIn.
And get your copy of my latest book, Your Goal Guide: A Roadmap for Setting, Planning and Achieving Your Goals. Then join the Your Goal Guide Facebook group.