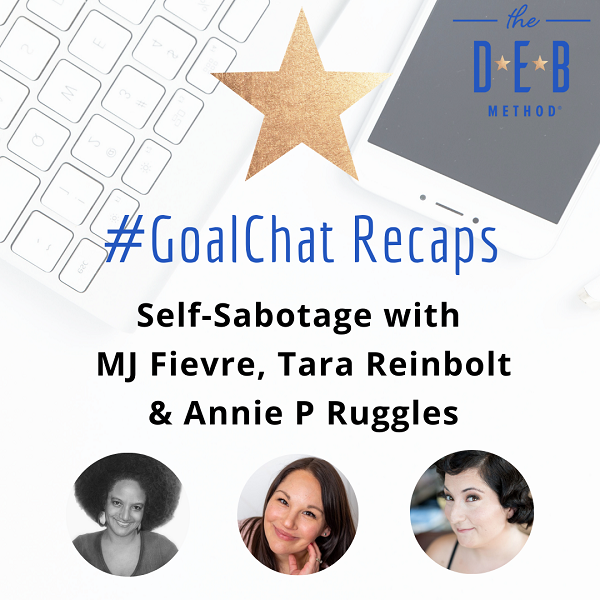 This week, fellow Mango MJ Fievre (the Badass Black Girl series), Tara Reinbolt (Secrets to Career Success Summit), and Annie P Ruggles (Non-Sleazy Sales Academy) joined me to discuss Self-Sabotage on GoalChatLive. We had a lively, fun, and informative conversation on something that impacts everyone at some point in their personal and/or professional journey.
According to our guests, self-sabotage is …
Annie: Doing the things that lead you away from success
MJ: Saying yes, when you should say no
Tara: Continuing behavior that use to help you and is now a detriment
MJ, Tara, and Annie shared their own self-sabotage experiences, along with their thoughts on the why, how – and how not to – self-sabotage.
Watch our Conversation on Self-Sabotage
Also, check out the full GoalChatLive conversation on Self-Sabotage in the Twitter Moments Recap.
Your Goals for Combatting Self-Sabotage
Annie: Do three "asks" for business this week. Annie is doing five!
Tara: Ask yourself what destructive or sabotaging behavior you are normalizing. Then, get rid of it!
MJ: Visit BadassBlackGirl.com and take part in the 7-day challenge: "Say No once every day this week!" Added by Deb: Once it's a habit, make sure you say No at least 3x/week.
Final Thoughts 
Tara: When you get in tune with who you are, it's much easier to get over self-sabotage and reach your goals
MJ: Set boundaries
Annie: Embarrassment sucks, but you won't die. Put yourself out there!
Links
What's your tip for avoiding self-sabotage? Please share it in the comments.
* * *
On the next #GoalChat we will be talking about July Wins and August Goals! Join the Twitter chat on Sunday, August 1, at 7pm PT on Twitter. Then, on Monday, August 2, at 4pm PT, Kathy Klotz-Guest, Karen Pulver, and Katrina Sawa will join me for #GoalChatLive.
* * *
For more inspiration, motivation, and tips, follow @TheDEBMethod on Twitter, Facebook, and Instagram. And connect on LinkedIn.