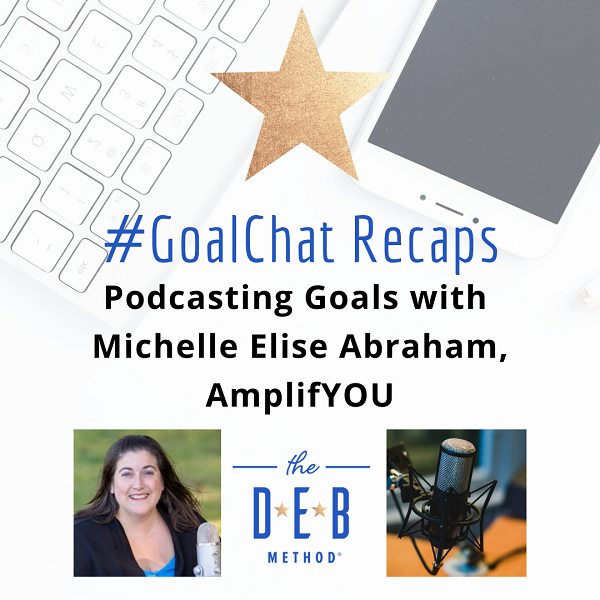 On this week's #GoalChatLive we talked about Podcasting with podcast host/producer Michelle Elise Abraham, AmplifYOU and My Podcast Coach. Michelle, who has been podcasting since 2012, supports businesses with their podcasters, so experts can remain in their "zone of genius."
Michelle shared what led her to start podcasting, and why podcasting is so beneficial for a business. Podcasting, first and foremost she says, is great for relationship building. It's a wonderful "coffee-date alternative." Rather than meet someone for a networking-type conversation, you can invite them to be a guest on your podcast, see what they offer, explain your services, and developing your relationship.
Additionally, being a podcast host makes you a member of the "media." It gives you access to nearly anyone, whether you are covering an event or reaching out to your wish list for interviews.
Podcasting Tips
To create podcast content, read your book aloud, use FAQs, ask your community/clients about their challenges. Be creative!
Think of podcasting as the hub of your content for a month. Use it for blog posts, social media posts, and more. You can also repurpose your content down the line, so try to make it evergreen.
One way to get your podcast found is to be a guest on other podcasts.
Looking for guests? See what shows are similar to yours, check out their previous guests, see if you know any of them, and reach out.
Getting Started Podcasting
When I asked what advice she had for someone who wants to start a #podcast, Michelle said simply, "Do it!"
Four things stop people from podcasting. These are Michelle's tips to counteract them:
Get to know your technology
Get over your fear of being seen and heard
Realize it doesn't take as much time as you think
Avoid analysis paralysis
Really think about podcasting before you start. There's a lot of strategy behind it. Make sure people know how to work with you within your show. In other words, use subtle calls-to-action within the show, and let people know how to reach you toward the end.
Launching a Podcast? Remember, DEB: Determine the Mission for your podcast, Explore your Options (format, frequency, branding), and Brainstorm the details. It's a great starting point!
Watch #GoalChatLive on Podcasting
Check out the full GoalChatLive conversation on Podcasting in the Twitter Moments Recap.
Bonus Goals: Podcasting
Podcast Guest Goal: Go and listen to 5 shows that you want to be on! Subscribe and review. (Remember, Michelle's Get Noticed Formula. Find a podcast you think you want to be on. Listen to it. Review it. Email a specific pitch to the podcaster to stand out!)
New Podcaster Goal: Test your content. Spend 10 minutes brainstorming ideas for your show.
Established Podcasters Goal: Batch four episodes ahead of time.
Bonus Podcaster Goal: Go to Listennotes.com and get your listener rating.
Final Tip from Michelle
Have fun with your podcast! If you have a story to tell, you have no idea who needs to hear it and what good it will do. Use your podcast to get heard in the world.
Links
What is your best podcasting tip? Please share in the comments.
* * *
Next Week
On the next #GoalChat we will be talking about Blogging. Join the Twitter chat on Sunday, April 18, at 7pm PT on Twitter. Then, on Monday, April 19, at 4pm PT, Mike Allton, Kate Farrell, and Dave Watson will join me on #GoalChatLive for a #Blogging Party.
* * *
For more inspiration, motivation, and tips, follow @TheDEBMethod on Twitter, Facebook, and Instagram. And connect on LinkedIn.
And get your copy of my latest book, Your Goal Guide: A Roadmap for Setting, Planning and Achieving Your Goals. Then join the Your Goal Guide Facebook group.