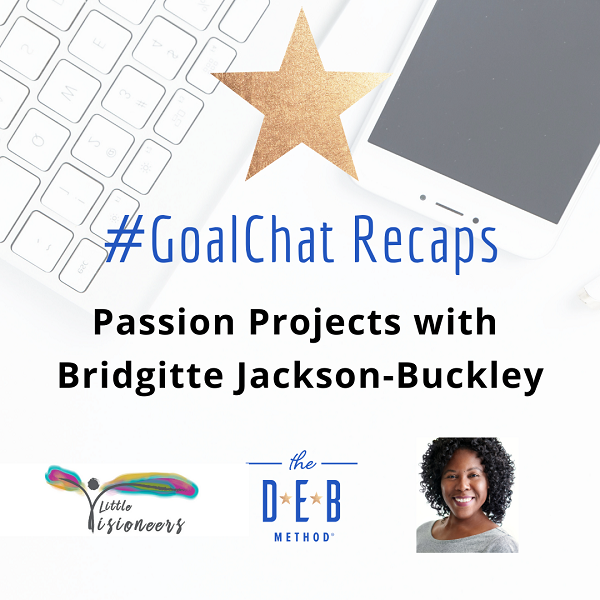 On this week's #GoalChatLive fellow Mango Publishing author Bridgitte Jackson-Buckley, The Gift of Crisis, joined me to talk about her passion project – Little Visioneers bookshop … as well as her take on following your passion. Bridgitte shared how Little Visioneers came about, her mother's COVID passion project, and much more.
When you are pursuing your passion – the things you enjoy – it makes you feel good. "When you are in a position of joy," Bridgitte explained, "you can better emanate love … and that's good for everybody!"
Bridgitte's passion is connecting hearts! Her project – Little Visioneers – is her expression of it!
Seeking a Passion Project? Look at your interests. Be curious. Explore how you can do things differently and find a way to share it with others.
In most cases, passion projects are a marathon. You need to have patience, practice self-care, and watch it evolve.
"Don't force things," Bridgitte said. "Be heart-led.
"Small steps keep things moving forward. Follow the spiritual breadcrumbs."
Watch #GoalChatLivePassion Projects
Check out Sunday night's #GoalChatLive conversation on Passion Projects in the Twitter Moments Recap.
Bonus Goals: Passion Projects
Visualize a dark road and turn on the headlights to show you what you need to do right now.
Stop stressing out. Enjoy the journey.
Trust Yourself
Links
Bridgitte was a Guest on my #Start2021Now New Years Party
* * *
What is your passion project? Please share in the comments.
* * *
Next Week
On next week's #GoalChat the topic is Outreach. Join the Twitter chat on Sunday, March 21, at 7pm PT on Twitter. Then, on Monday, March 22, at 4pm PT, join me and community builder Keith Spiro.