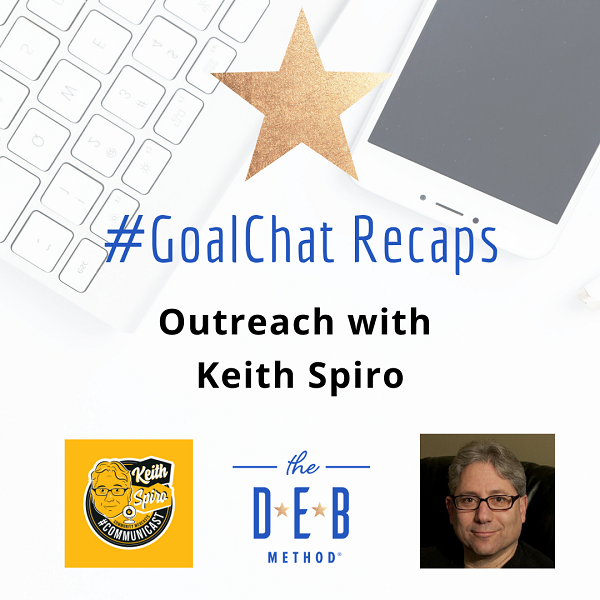 On this week's #GoalChatLive the topic was Outreach with community builder and business strategist Keith Spiro. In simplest terms, Keith says, "Outreach is reaching out." This applies to people you know, as well as people you don't know. And these days, everyone is accessible.
During the conversation, Keith talked about his mission – to elevate others to be seen, be heard, and be found, as well as his thoughts on the power of outreach.
Keith shared advice for confronting the three extremes of outreach challenges:
How can introverts get out of their outreach comfort zone? Start by dipping your toe in the pool. Lurk, like, speak/comment, repeat.
What can you do if your outreach isn't working? If your outreach is not working, you are reaching out too hard, too far, or too much. You may not be following your mission. Or you may be in the wrong room. Realign yourself with your mission and get in front of the right people.
And how can people improve their outreach?  Find ways to stand out. Be memorable to them … and in a good way.
Keith's best tip for Outreach: Go online to your current favorite social media platform, and just start liking things that you care about. Take notice of those who reply and continue the conversation. As a bonus, doing this helps the algorithm know more of what you care about, so it will send similar things to your feed.
The true key to successful outreach? Have faith. The right people will find you for the right reasons at the right time for them.
Watch #GoalChatLive on Outreach
During our conversation, Keith referenced these tweets from Sunday night's #GoalChat on Outreach:
A5. Reach out without any biases or assumptions. Be prepared to learn. Erase any notions which rely on ignorance. Be brave and be tolerant. #GoalChat

— IV (@inavast) March 22, 2021
A5. Be strategic, build on your existing connections/network, make it a collaborative process. #goalchat

— Bill Wong, OTD, OTR/L (@BillWongOT) March 22, 2021
Keith's "edit" on the above is to, "Be random and make it collaborative." Try different things until you find what works for you.
Check out the full GoalChatLive conversation on Outreach in the Twitter Moments Recap.
Bonus Goal: Outreach
Spend 5 minutes at a time, a few days a week, on your favorite social media platform, and "like" things. Feel free to comment and share, too.
"Be yourself, share who you are, and trust the right alignment will take place!" Keith says.
Links
Keith was a Guest on my #Start2021Now New Years Party
* * *
What is your best outreach tip? Please share in the comments.
* * *
Next Week
On next week's #GoalChat we will talk about March Wins and April Goals. Join the Twitter chat on Sunday, March 28, at 7pm PT on Twitter. Then, on Monday, March 29, at 4pm PT, join us for our April #GoalChatLive party. The April theme is Storytelling!