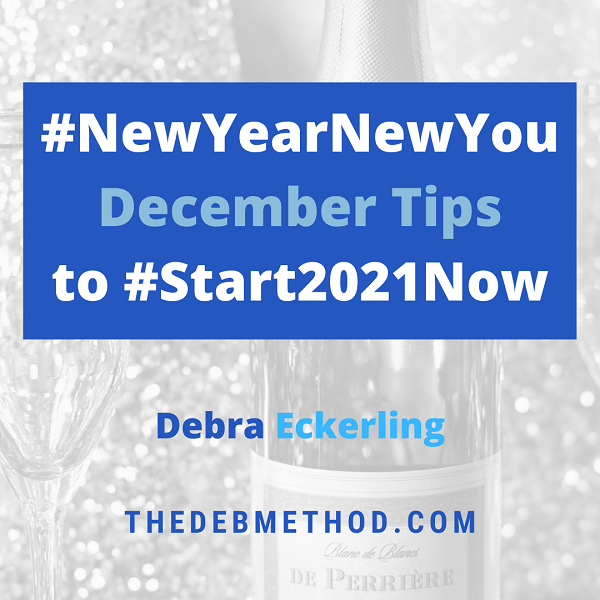 Read for some #NewYearNewYou December Tips? It's #DEBcember and I am determined to help you #Start2021Now!

As you may know, I decided to Start 2021 on December 1. Many are anxious to leave 2020 behind, so I figure why not get a jump on 2021!
Every day in December, I will post a #NewYearNewYou #Tip on @TheDEBMethod social media accounts. To give you all as much support and motivation as possible, I'll also be sharing tips from awesome peeps throughout the month!
DEBember 1st #NewyearNewYou Tip
Create a Vision Board for your #GoalTopia.
Step 1. Name 26 things you want, one for each letter of the alphabet.
Virtual Scavenger Hunt A to Z Worksheet
Step 2. Choose 10 meaningful items from your list.
Step 2 – Virtual Scavenger Hunt – Top 10 List Worksheet
Step 3. Find your 10 items. Grab an image that represents each item on your list.
Step 4. Upload your images and create a collage.
Step 5. Title Your #GoalTopia. Use a theme song, phrase, or motto.
Steps 3, 4 & 5 – Virtual Scavenger Hunt Collage How To
What does your vision board look like?
Please let us know in the comments.
* * *
Who am I?
I am a goal-setting expert and author of Your Goal Guide: A Roadmap for Setting, Planning and Achieving Your Goals. I am all about helping people figure out what they want and how to get it. And when working towards your goals, you also need to take care of yourself!
Follow @TheDEBMethod on Twitter, Facebook, and Instagram. And connect on LinkedIn.