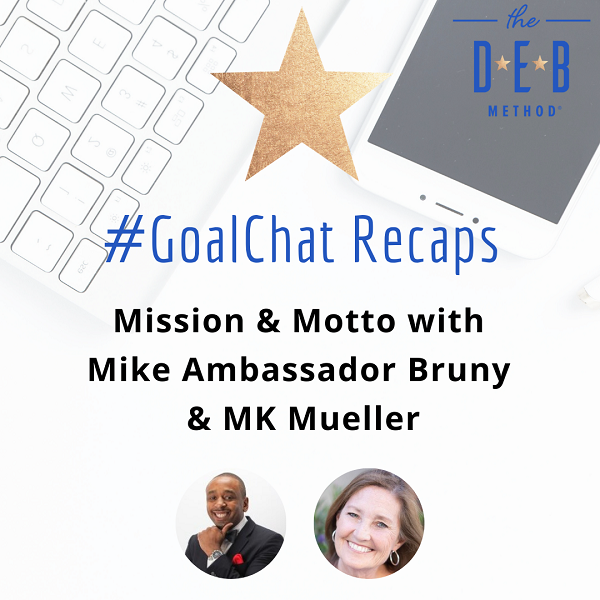 On this week's #GoalChatLive, Ambassador Mike Bruny and MK Mueller join me to talk about Mission Statements and Mottos! Mike and MK discuss their journeys and their missions and mottos, as well as offer advice for finding your mission, claiming the future you want, and more. I like to start the new year in DEBcember to help others set the tone for a successful 2022.
About my guests:
Ambassador Mike Bruny is a Passion and Purpose Project Coach, an Employee Experience and Belonging Strategist, and the Creator of Hashtags to Handshakes. We know each other from our days working Social Media Marketing World. Mike's mission is to help "People learn through projects." His motto is, "Run the point. Take action from where you are with what you have!"
Fellow Mango Publishing author MK Mueller (8 to Great) is a TEDx Speaker, Trainer, and Coach. We first connected on a Mango Heart Panel a few weeks ago. MK's mission is, "To create heaven." Her motto is, "Choose thoughts that feel good."
A mission, Mike says, "Ties into why you get up in the morning. You need to do the thing that makes you do the thing."
Adds MK, "A mission gives people hope. Dreams and goals can't live without each other."
Watch the Mission & Motto #GoalChatLive 
Also, check out the full GoalChatLive conversation on Mission and Motto in the Twitter Moments Recap.
Discovering Your Mission
MK: Try MK's ABCD exercise: Ask a friend or stranger, 'What is A dream of yours?" Your Buddy answers. Congratulate them. Do a dream interview.
Mike: Get grounded in where you are. Think about how you show up and how you can use more of your strengths.
Deb: Go on my Vision Board Virtual Scavenger Hunt
Goals from Our Guests
MK: Share three things you are thankful for each day and no repeats
Mike: Write a journal entry, based on this prompt:
"No compass comes with this life–just eyes;
so to map it out you must look inside. Sure books can guide you,
but your heart defines you." ~Shawn Carter aka Jay-Z
Bonus: Find a community or start a community
Final Thought
MK: You hold the key
Mike: Go forth
Deb: Go for it!
Links
What is your mission? Please share in the comments.
Next Week
On the next #GoalChat we will be having our annual Twitter Holiday Party! Join the Twitter chat on Sunday, December 19, at 7pm PT on Twitter. No Live #GoalChatLive, but I will be sharing a replay at 4pm PT.
* * *
For more inspiration, motivation, and tips, follow @TheDEBMethod on Twitter, Facebook, and Instagram. And connect on LinkedIn.
And get your copy of my latest book, Your Goal Guide: A Roadmap for Setting, Planning and Achieving Your Goals. Then join the Your Goal Guide Facebook group.