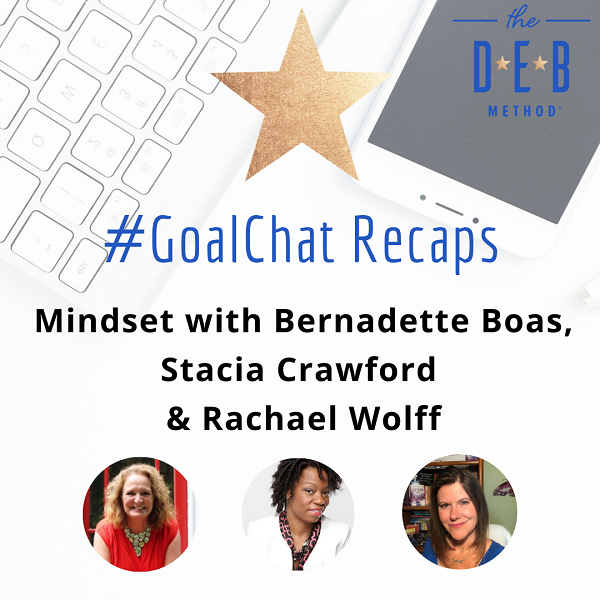 On this week's #GoalChatLive, Bernadette Boas (Ball of Fire Coaching), Stacia Crawford (Stay Ready Media), and fellow Mango author Rachael Wolff (Letters to a Better Me) joined me to talk about Mindset. Our January #NewYearNewYou Topics are Mind, Body, and Spirit. And mindset is fundamental to how you approach your goals, so it was the perfect way to kick off the year!
We talked about the value of mindset, as well as ways to improve mindset. Really the conversation was all about embracing who you are, where you come from, and what you want. Mindset is about growth,  choosing yourself, and moving forward.
According to our guests, Mindset is:
Stacia: Your belief
Bernadette: Your knowing. Honor your riches … take inventory and leverage them
Stacia: It's not just about boasting, it's about service
Rachael: To be able to give for the love of it has everything to do with perspective and mindset. Knowing, believing, and doing things for the reason is what fills us
Our Guests' Default Mindsets
Rachael: It is from a loving place
Bernadette: Abundance – kindness, joy, peace, calm, serenity, love, aha moments
Stacia: What if… what is the best thing that can happen?
Watch #GoalChatLive on Mindset 
Also, check out the full GoalChatLive conversation on Mindset in the Twitter Moments Recap.
Tips for Adjusting Your Mindset
Stacia: What you focus on grows. Focus on the good, and it propels you forward
Bernadette: There are blessings and lessons. There is something to be learned from everything. Take 5 minutes every day, just write and learn about yourself. Then, per Rachael, see where it's coming from. Self-awareness is key
Stacia: Read your journals. See how you have changed
Rachael: First awareness, then acceptance, then take action. We will only allow ourselves to be as happy as we think we deserve. Look at yourself in the mirror. When you react, see what it is you are reacting to. See how you can change your perspective. When we are in the energy we want to live in, it attracts the right energy
Mindset Goals
Bernadette: Spend the day smiling. Look people in the eye, smile, and see the response you get. Yes, you can smile with your mask on. It will show in your eyes. Also, say "Hi!"
Rachael: Question your thoughts
Stacia: Trust the process. Trust how you are feeling. You have to know and believe. You will attract what you put out into the world.
Links
How do you adjust your mindset? Please share in the comments.
Next Week
On the next #GoalChat we will be talking about WHole Body Health. Join the Twitter chat on Sunday, January 16, at 7pm PT on Twitter. Then, on Monday, January 17 at 4pm PT, Deborah Myers will join me on #GoalChatLive.
* * *
For more inspiration, motivation, and tips, follow @TheDEBMethod on Twitter, Facebook, and Instagram. And connect on LinkedIn.
And get your copy of my latest book, Your Goal Guide: A Roadmap for Setting, Planning and Achieving Your Goals. Then join the Your Goal Guide Facebook group.