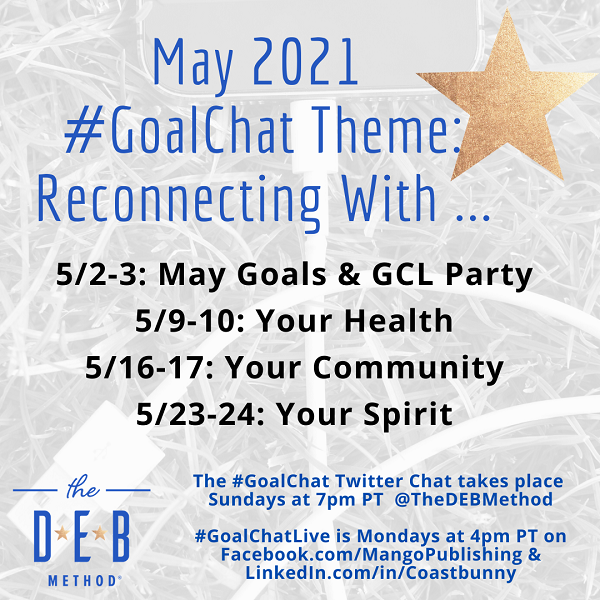 Our May Goalchat theme is Reconnecting. We've been out of the loop for a while, so what better time to reconnect with yourself – and others – than now. The May 2021 #GoalChat topics cover Reconnecting with your health, your community, and your spirit.
Here are the May 2021 #GoalChat and #GoalChatLive Topics and Guests:
May 2: May Goals
May 3: Rocking and Reconnecting Party with Viveka von Rosen and Dayna Steele
May 9: Reconnecting with Your Health
May 10: Guest is Rhino Julie
May 16: Reconnecting with Your Community/strong>
May 17: Guests are Jenna Busch and Anastasia WIlliams
May 23: Reconnecting with Your Spirit
May 24: Guests include Suzanne Gunderson
* * *
#GoalChats are every Sunday at 7pm PT, and is Tweeted from @TheDEBMethod Twitter  account.
#GoalChatLive takes place on Mondays at 4pm PT from the Mango Publishing Facebook Page.
Read the Twitter Moments Recaps.