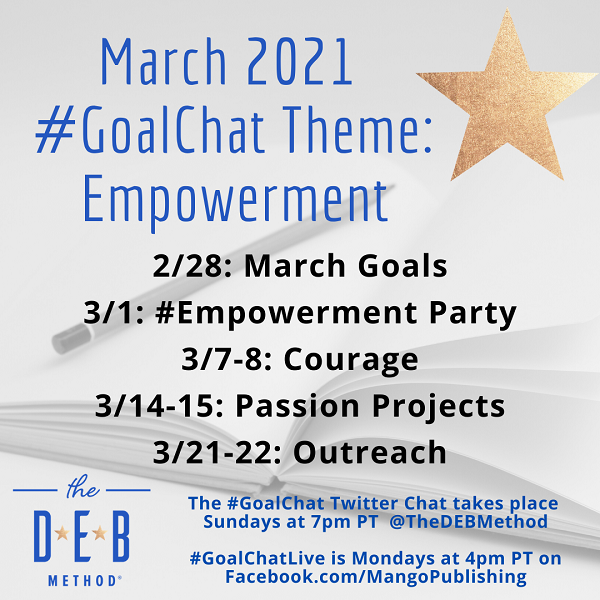 March is Women's History Month, so what better time to talk about Empowerment on Goalchat! The March 2021 #GoalChat topics include Courage, Passion Projects, and Outreach.
Here are the March 2021 #GoalChat and #GoalChatLive Topics and Guests:
February 28: March Goals
March 1: #Empowerment #GoalChatLive party with Camille Kauer, Carmel Ecker, and more.
March 7: Courage 
March 8: For International Women's Day my guest is fellow Mango author Shelly Rachanow, When Women Run the World Sh*t Gets Done
March 14: Passion Projects
March 15: Guest is  Bridgitte Jackson-Buckley, Little Visioneers Bookshop.
March 21:  Outreach
March 22: Guest is community builder Keith Spiro.
* * *
#GoalChats are every Sunday at 7pm PT, and is Tweeted from @TheDEBMethod Twitter  account.
#GoalChatLive takes place on Mondays at 4pm PT from the Mango Publishing Facebook Page.
Read the Twitter Moments Recaps.